Indian Stock Market Analysis is at a very crucial level and nail-biting position.
Did you notice there is magic in today's date? 22 July 22
Today is my Extensively researched book Basics of Stock Market for Beginners would be released.
So the analysis would be Short and Sweet.
Indian Stock Market Analysis as per Charts: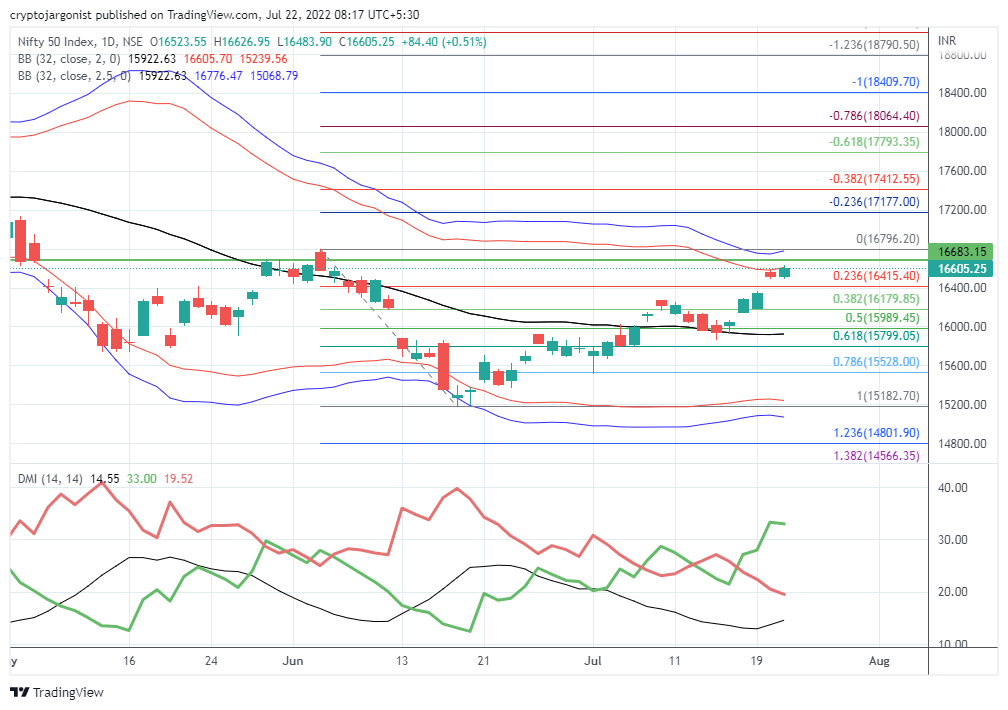 Can 16776 be touched? That's the highest Nifty may scale before breaking down!
We see Nifty well above the resistance at 16560 levels.
But Nifty is already on the brink of resistance.
Bollinger Bands are the blankets for the market, and can Nifty break this jinx and scale further?
SGX Nifty is just 12.5 points higher denoting a Neutral to Negative opening!
World Markets Support for 22 July 22:
S&P 500: 39.05 (+0.99%)
NASDAQ: +179.73 (+1.43%)
Dow Jones: +162.06 (+0.51%)
Nikkei: 67.35 (+0.24%)
World markets are supportive but SGX Nifty is not!
Indian Stock Market Analysis Conclusion:
SGX Nifty is showing signs of breakdown.
Though US markets are above 1% in yesterday's trade, we are on the verge of breaking down.
Charts and SGX Nifty both are not supportive!
Nifty Supports and Resistances:
Nifty Supports: 16560, 16514, 16492, 16359
Nifty Resistances: 16605.7, 16776
GOOD READ: How To Choose The Best Option Strike Price For Landmark Success?
Considering the trends globally and Technical Analysis Nifty Trend Today is POSITIVE.
Follow me on Facebook and Youtube.
Happy Trading and Happy Money Making!