Nifty Trend Calculator Method is a very good way to find the Nifty Trend Today.
I've figured out a nice formula with help of EMAs crossovers to chalk out the Nifty Trend Calculator.
BTW, I just blogged about How to Know Bank Nifty Trend. You'll find lotta golden nuggets there.
Nifty Trend Finder is a pretty decent and workable means to chalk down the Nifty Trend Today.
Let's discuss in detail what makes the formula of the nifty trend calculator stick compared to numerous other methods to find the nifty trend today.
What led to the discovery of the nifty trend calculator strategy?
One fine morning I was learning to trade from the PDA of Nasdaq traders.
Though online brokerages had gained a foothold in the market, it was still not popular trading online.
Back in 2011, I staggered over a formula my friend was using to find the good Trend of Nasdaq.
Back then the traders were supposed to be on the Nasdaq campus in order to trade.
[GOOD READ]: Can Futures And Options Trading In India Be A Full-time Occupation?
A Wonderful Discovery:
Even the discovery of gravity was done at an unknown instance.
So was I when I staggered at this working formula.
I had no idea that the Nifty trend calculator strategy can be formed using the Ema crossover.
My friend was using a 50 day Ema and a 100 day Ema to find out the trend of Nasdaq.
I started an experiment after seeing the enormous advantage we may have to find out the trend.
I experimented with multiple EMAs on Ninja Trader before I came up with this groundbreaking Discovery.
I analyzed about 10 years of trading charts of Nifty to come up with the current strategy.
Now I give it to you on a silver platter with a golden spoon to gulp my groundbreaking strategy.
Advantages of the Nifty Trend Calculator:
Very easy to use.
The amazing result using this strategy.
You may use it for intraday trading or are long-term trading.
The versatility of the formula makes it on any Technical Chart.
The resulting profit is enormous when this phenomenon occurs.
Disadvantages of the Nifty trend calculator strategy:
Not applicable in a sideways market.
Need technical analysis software in order to determine the strategy.
At least I need some technical analysis background to understand.
Need to be disciplined to follow the formula when it occurs.
Have to be on the look for the phenomenon to occur patiently.
[Good Read] ; What is Your Most Successful Options Trading Strategy?
EMAs:
Abbreviated for the Exponential Moving Average, is known for its agility to make enormous footage to determine the nifty trend today.
Let me give you a head's up that EMAs are a good leading indicator unlike their counterpart SMAs.
EMA gives a strong foothold in the Nifty Trend Calculator strategy, as the trend once determined will give a lot of money-making power to the user of the strategy.
For the nifty trend finder strategy we are discussing, we'll use the 10 day and a 13 day close EMA. 
Nifty Trend Calculator Strategy using EMA Crossover:
One of the main pillars in the strategy, the EMA crossover strategy determines the best way to make money online trading.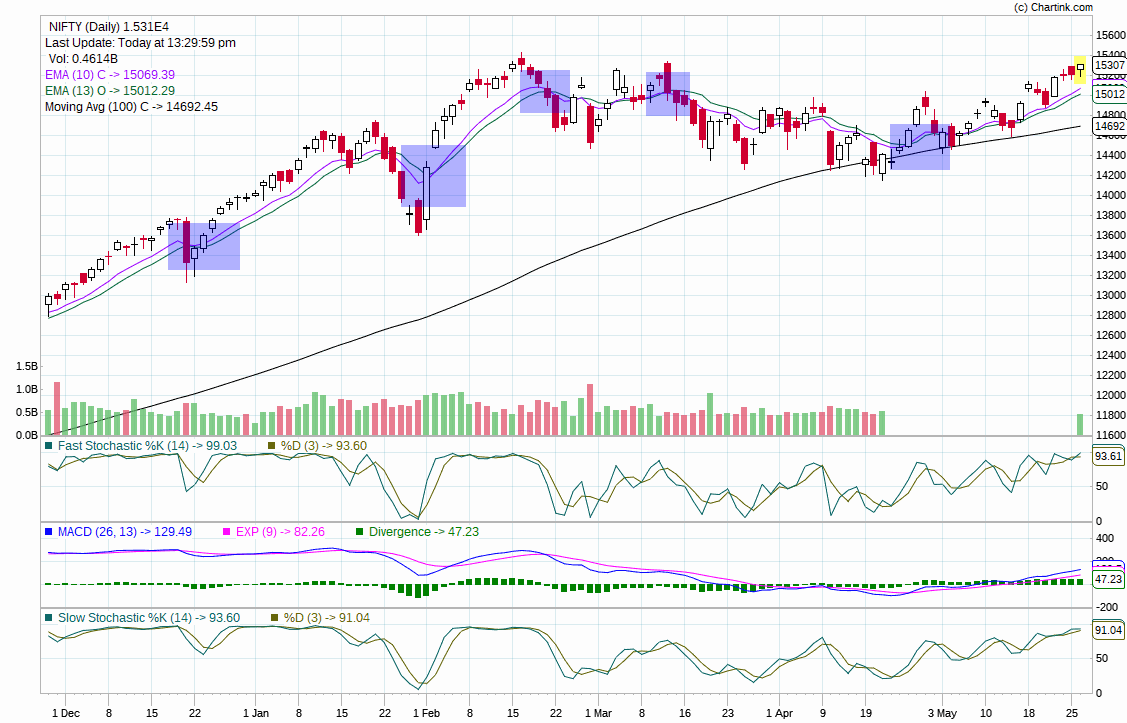 Chart by Chartink
I've notified you of the areas where the 10 Day EMA is crossing over 13 Day EMA either on the upside or on the downside.
You may very well see that, once the Ema, gives a crossover, its foothold is very strong.
The highlighted areas showcase the Nifty's start of an uptrend or downtrend.
You may notice whenever the Nifty gives a crossover on the EMA, there is at least a 400 to 500 point up or down move.
So go out there and use the 10 day Ema crossover above or below 13 day Ema to find out your next Nifty trend today. 
This concludes the Nifty trend finder strategy. 
Learn how to trade in India before jumping to this strategy.
Hope you find it useful and you will you set on a daily basis.
Let us create a new community of traders using my Nifty trend finder strategy.
If you found good results 2 comments below. I am very happy for you if you use my strategy and it makes money for you. 
Don't forget to share this strategy with your colleagues and friends who are traders.
Last but not least Nifty trend finder strategy is my own strategy and not a copycat strategy. You may use it with no copyright to anyone and if required write about it anywhere.
If you break about this Nifty trend finder strategy anywhere, don't forget to give me a Shout Out.
Last but not least, together we can stop Corona, not to gather. 
Happy trading and happy money-making!