Is there a possibility to be in Futures and Options Trading In India as a Full-Time Jobbing?
In India or anywhere in this world, there is a word called Jobbing.
Options Trading in India got to be considerate about options trading jobbing from around 2003, where NSE started getting more volumes in options trading.
Options Trading is considered gambling for some people in India as they do not understand what and how money is made!
For the whole reason of its lucrativeness that it may move or exhibit enormous profit capability. The options started moving in excess of 100% on the days when Nifty moved above 100 points.
Until then people didn't have considered Futures and Options Trading in India as a legitimate opportunity.
In around 2008 when the recession hit the world almost 99% of Jobbing candidates lost money and quit trading as a Job.
At the time of 2008 only brokerage, insurance companies had the money to buy anything in the stock market.
Though stock markets had the provision to trade in selling without having the stocks, people around the world considered bailing out of the market and not to trade.
For the rest of the 1% of traders, many were biased that when the market fell about 800 – 1000 points in a day, the market would bounce back in such a big chunk very soon too. Such people got into buying when the market continuously fell for about 1 year at a stretch.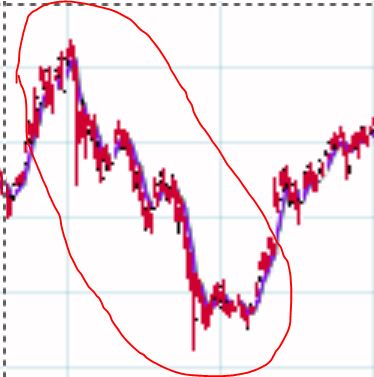 CHART SOURCE: CHARTINK.COM
In 2008 Nifty fell for almost 9 – 10 months at a stretch. Jobbers lost hope because usually they were accustomed to make money when the market was rising.
In 2009, when the markets started its spring season and showed the signs of the blossoming positivity from the bottoms, jobbers were back in the market.
From then since, India has lots of Jobbers including me.
I was a jobber from 2013 till 2019, until, I met with an accident and fractured my hand.
Since 2019 September, I do the technical analysis and give directions to the team I manage and they trade for me now.
What are the Advantages of Futures and Options Trading  Jobbing?
You are your own boss.
You can lose or make any amount of money.
You don't have to answer anyone about your losses.
You are in control of any situation and make profits more than losses.
You will have the ultimate power to decide if you want to trade for the day or take an off.
You can make as much money and still have weekend offs.
All the government holidays are holidays for you.
What are the disadvantages of Jobbing in India?
You are to control all the issues that arise during trading hours, as you are very accessible to everyone.
You are at risk of losing everything and not be able to cope with losses.
Keeping your intuitions calm is very hard and jobbing always wants it to be kept under strict control.
Fear and Greed can ruin your trading career and you will still be in denial.
People often don't accept your trading as a job often undermine you.
Money Management is a big risk in options trading in India as you have to be very strict in cutting your losses and don't greed to take profits when achieved.
How to overcome fear and greed?
MIND CONTROL – Meditation often keeps your mind calm and helps you to move your mind in a clear state without diluting.
SELF CONTROL – Say to yourself that you are the owner of your thoughts and body. You control your mind and not vice-versa.
EDUCATION – Education about taking the right steps at the right time to make informed decisions will always keep you in a good mindset to trade and take profits home than the losses.
MUDRA – I daily do the KUBERA MUDRA and tell myself "I'm getting a lot of great trades in today's session. I'll take informed decisions throughout the day." This helps me in keeping my visionary side of my brain always open to grasp the chart of the market and take the right trades always when its giving the right signs of entering the trade.
DON'T OVER TRADE – When you feel tired, exhausted or not in good mood, don't trade. So is it with overtrading, never trade more than what you've set the goal for yourself to win or lose. When over-traded, you often lose than win in the market.
Hope my 2 cents of advice will help you to make the decision of jobbing full time vs your day job.
Share this with others so the world becomes a better place for jobbers of options trading in India.
Good Read: 9 Steps to Create Best Options Trading Strategies
HAPPY TRADING AND HAPPY MONEY MAKING!