Indian Finance Minister Nirmala Sitharaman's Relief Package, its Truths, and How it Impacts Indian Middle-Class Person's Life?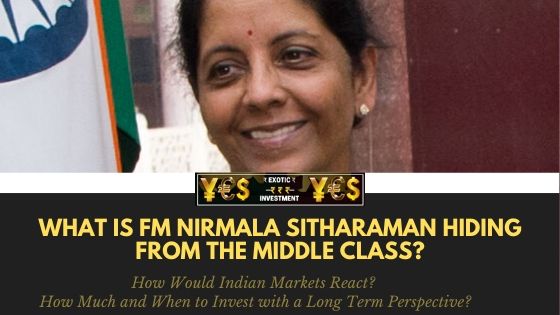 Today Nirmala Sitharaman Minister of Finance announced a Rs 1.7 lakh crore relief package for the poor.
What was included in the FM's Relief Package:
PM Gareeb Kalyan Yojana will include a total of Rs 1.7 lakh crore to be credited and used for the relief.
It will include both cash transfer (means a direct benefit transfer like Gas Subsidy) and food security (which includes direct food supply to the poor with BPL cards).
Provide insurance cover worth Rs 50 lakh for sanitation workers( who work to clean the roads, hospitals,etc ) ASHA workers, doctors, nurses, paramedics in case they need it. All these people are the direct front line staff who is directly touching and cleaning coronavirus affected masks, patients and stuff with infection.
With the 5kg of rice or wheat that is already provided to the poor, another 5 kg per person will be distributed free to around 80 crore people through the Public Distribution System. Besides, 1 kg of region-based pulses or grains is provided with the above-mentioned package.
What's included in the Direct cash transfer to the Poor through DBT?

Farmers: The first instalment of ₹2,000 of PM Kisan Rozgaar Yojana will be given in the first week of April. Approx ~8.69 crore farmers will get immediate benefit out of it immediately.
MNREGA: Increase in daily wage rate from ₹182 to ₹202 which calculates to an increase of ₹2000 per worker leading to benefit 5 crore, MNREGA workers.
Old age/widows: An ex gratia amount of ₹1,000 for next three months available in two instalments. It will benefit 3 crore widows and senior citizens above the age of 60.
Women Jan Dhan account holders: Ex gratia of ₹500 per month for the next 3 months. This will benefit 20 crore women.
Women Ujjawala scheme beneficiaries: For the next 3 months, free cylinders would be provided to unburden the poor from current meltdown of non working due to coronavirus lockdown. This will benefit 8.3 crore BPL families.
Women Self Help Groups: Per the Deen Dayal National Livelihood Mission, the collateral-free loan will be issued to the limit of ₹20 lakh vs the earlier limit of ₹10 lakh. This would impact 7 crore holders through 63 lakh Self Help Groups.
Employer/Employees Sector: As per FM Nirmala Sitharaman , Government to pay the EPF contribution both of the employer and the employee put together 24% for the next 3 months.
This is for those establishments with up to 100 employees, 90% of them earning less than Rs 15,000.
The organised sector: EPFO regulation will be amended so that workers can withdraw up to 75% for their emergency expenditure non-refundable advance or three months of wages in advance whichever is less. This would benefit about 4.8 crore workers with EPF deductions.
Construction workers: State governments have been instructed to use the welfare fund for building & construction labourers which has around ₹31,000 crores to help those facing economic disruption because of the lockdown.
Also, India Inc. to utilise the funds available under the district mineral fund for testing activities, medical screening, providing health attention needed to fight the coronavirus pandemic.
What Finance Minister Nirmala Sitharaman is Hiding from the Middle-Class Indians:
Here comes the questionable and/ debatable part of the Truth be said.
May be our Finance Minister Nirmala Sitharaman feels that it's not needed to mention that we would also support the middle-class sector in the business, like grocery stores, small boutiques, beauty parlours, restaurants, etc.
By the word of mouth that poor be treated well, what about the Middle Class who's jobless because of their business sinking, unable to pay the workers without the turn around in the shut business due to lockdown!
What care does Police show to the grocery vendors where DGP Praveen Sood announced Grocery Shops can be Open 24/7 during the lockdown?
Police lockdown shops at 10 AM without mercy. Is there Grocery Shop Owners allowed to go out and get the stocks rejuvenated?
What about the private sector where the work is still physically done. For Ex:) Xerox shops, Typists, etc?
The middle class in the business of meeting clients like plumbers, electricians, water filter workers would they get any benefits?
How about Road Street Vendors who would not have any money without their income from food vending to eat for next 21 days of lockdown?
What about the employees who get laid off due to the lockdown in the sector of Airlines, Restaurants, Hotels, Guest Houses, Travel Agencies, Private Bus Agencies, etc in the field of Travel lines?
What about the employee benefit who do not have EPF for middle-class workers, probably if they get laid off!
Many may argue that Indian Finance Minister Nirmala Sitharaman cannot comment of cover all that in one speech.
But really that one speech should cover at least a hope for what comes next.
That was the missing point in the relief package. At the end of the day, Middle-Class Indians, especially in the General Quota are the ones who get next to nothing!
Ray of Hope Finance Minister Nirmala Sitharaman left in the speech was Extention of the closure of Financial Year which was supposed to end at March would bow end at June 2020. 
What is the impact of Finance Minister Nirmala Sitharaman's Relief Package on Indian Markets?:
Middle-class families think that the relief package drew the market high and this is the time to invest.
But is it? Has the downside been capped now? Has the job cuts and vastness of devastating coronavirus after-effects over?
Let me jot down some devastating after-effects of coronavirus on Indian Economy:
Travel is the worst hit. As per Financial Times, most airlines may go bankrupt by May. Meaning Global Recession is inevitable.
Restaurants are the second-worst hit as they can't open during lockdowns, no matter what! 4 Million restaurant workers may lose their jobs!
Currently, there are 5,25,297 coronavirus affected patients in the world with the death toll of 23,701. This would keep increasing as Italy is now the new epicentre of coronavirus and they have no way to stop the death toll. Anyone entering oxygen intake dies, LITERALLY DIES!
Middle-class families who do not have BPL cards run out of food supplies and at some time they have to come outta their homes and then the virus spread in India will double, making more devastating news than Italy!
When a country with 6.05 crore people less than the population of Karnataka state in India can have a death toll of 8215 people, care about 1.3 billion populated India. Though we are in lockdown people are Jingalala ing on the streets. There would be no beds, no hospitals that can take the bomb like the explosion of the coronavirus if people of India don't lockdown literally not to go out for anything!
At the stage when the numbers grow more than 1000 affected patients, Indian and Global markets would flunk again. Making a trap for all who believe the worst is behind the cards for now!
Indian currency may deteriorate less than 79 and our exports would fetch way less value than ever before hitting the GDP of India by at least 50 basis points. This would affect the traders and manufacturers and may also go bankrupt.
People are looking to invest in any downfall like the previous bottom fishing on the lows. But this is a tricky situation. A global pandemic is a time when any reverse news would fetch a huge downturn in the Markets. An investment of ₹100 may be valued at ₹20-₹30. To recover the breakeven You may have to wait for another 300 – 400% increase in the stock price.
What impact can coronavirus have on Indian Markets?:
Good Read: Options Training Session 1: 5 Option Trading Tips that Stock Market Courses Don't Ever Teach
1) In 2008 during recession Indian markets fell a whopping 59% from its Highs in January 2008.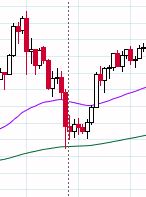 2) 200 Day EMA had supported the fall in 2008 recession crash. But now Indian markets is rising just because of the news and not technicals.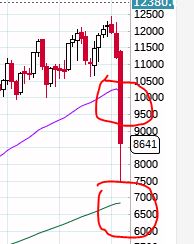 3) Considering the crash from the peak at 12430 to the low of 7511 its a fall of around 39%. Since technical analysis is a pattern based trading, impromptu fall may be still surely possible!
4) Also Indian markets are more vulnerable to the global markets and a fall their would mean a bigger fall here!
5) Considering the crash of 59% and a support at 200 Day EMA for Indian markets, the worst is about to come. As per the calculations the 59% fall would result to a 7333, where 200 day EMA is currently at 6849 which would surely lend support around those levels. This does not mean Indian Markets would fall evidently, but technical analysis prompts to those levels. 
6) Invest 10% of your portfolio every 300 points down on Nifty. Invest more around 7800, 7500 and 7300 levels if Nifty draws down further. Don't invest everything as you may be trapped for a long term of 10 – 15 years to recover your capital!
7) I read a very strong post on quora where, if you invest in a stock and it falls by 70%, You have to wait for 400% rise, fall by 80%, You have to wait for 600% rise in stock and falls by 90%, You have to wait for 900% to get breakeven price. So please invest in staggered SIP type investments during the falls to come, with a long term time horizon in mind as the coronavirus pandemic can take the world on a ride for a long time.
8) That being said here are some recommendations about investments, I can suggest and I can have on my watchlist:
Heidelberg Cem
Ion Exchange
Phillips Carbon
SRF
Subros
9) Read the disclaimer before any investment below

Hoping this would throw some light to the investors and traders in Indian markets.
We hope Finance Minister Nirmala Sitharaman would soon come up with a package to the Indian Middle Class too who are severely affected from the lockdown of the novel coronavirus pandemic.
At the end, I would really Urge all Indians to STAY HOME, STAY SAFE. If You Stay Socially Distanced today, You could Fight another Day. If You Don't think of the Future, You would be the cricket as in the Ant and the Cricket story (Google it) 🙂
Our PM Narendra Modi ji is the most Noble PM India has ever had and his futuristic thoughts are applaudable and are to be strictly followed.
Be a Better Human Being at least if You can't be a Better Indian! Stay locked down. Maintain Social Distance. May what be, don't leave Your Home, Lakshman Rekha. 
Together locked down we can fight the novel coronavirus pandemic. Not To – Gather!