Nifty above 17000 may be familiar about 2 – 3 months back.
However now, if Nifty is showing signs of being fearful?
Be Fearful When the Whole Market is Greedy, Be Greedy When the Whole Market is Fearful
Nifty above 17000: Happy or Sad?
We are obviously happy, but will technical analysis showcase this behavior? Let's see.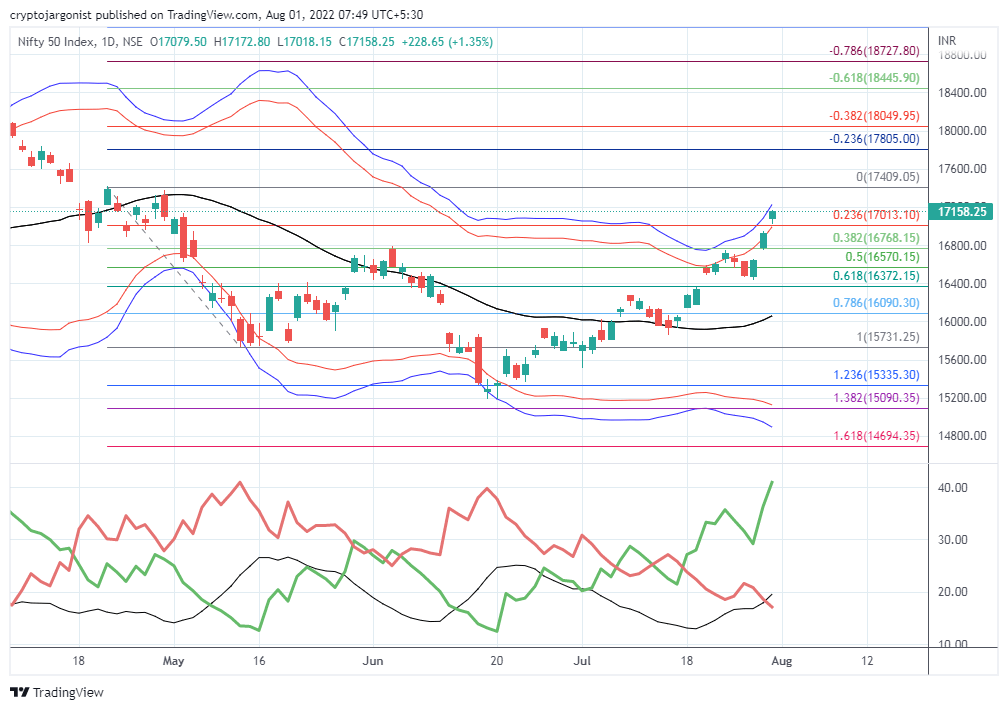 Now that our Nifty boss has shown us he is capable of incredible highs above 17000, our previous Fibonacci Retracement is no more valid which is a great sign.
Now that we drew Fibonacci retracement from the previous highs to the lows, we see leverage till 17409 which is a great sign.
BUT, a BIG BUT, 17223 level is a huge consolidation point. If Nifty can cross this with a bang, we may see more moves.
Support at 17000 for Nifty is a super saver which is a very good sign. Without support, nifty can't fly!
Nifty above 17000 shows we are quite well in terms of technical analysis, but will the money flow? This is a Question Mark!
2) SGX Nifty Trend for Today on 1st Aug 2022:
Today on 1st August 2022 SGX Nifty is showing a 22 Point HIGHER move at around 8:01 AM when I am writing this article.
SGX Nifty Trend on Live Chart denotes that the Indian Markets will react POSITIVE.
So Indian markets especially Nifty Trend Today would have a probably POSITIVE start.
3) World Market Analysis for Aug 1, 2022:
S&P 500: 57.86 (+1.42%)
NASDAQ: 230.1 (+1.81%)
Dow Jones: 315.5 (+0.97%)
Nikkei: 131.65 (+0.47%)
US markets have cheered us and conveyed, the ultimate support by having the indices above and beyond 1% comfortably!
Also, Nikkei and SGX are cheering Indian indices to move higher!
4) Nifty Supports and Resistances:
Nifty Supports: 17132, 17000, 16979, 16926
Nifty Resistances: 17223, 17300, 17400
GOOD READ: How To Choose The Best Option Strike Price For Landmark Success?
5) Nifty above 17000 a Cheer of a Fear Conclusion:
We may see Nifty moving past 17200 today, however, 17223 is a hard stop as resistance.
Nifty has a good push UP only if 17223 is cleared.
Also, bulls have all the support now rather than the bears having resistance.
Many sidelined investors may start investing with FOMO (Fear of Missing Out).
But Nifty is at the peak of Bollinger Band, which is a negative and may push Nifty down.
The Directional Movement indicator has crossed resistance showing positivity to Nifty.
So to conclude nifty above 17000 is a CHEER to the market and may see more moves due to the sidelined cash flow.
MUST-READ: Can Day Trading Make You Rich For an Exhilarated Excuse Free Life?

Considering the trends globally and Technical Analysis Nifty Trend Today is POSITIVE.
Please let me know your thoughts about today's deep analysis of Nifty in the COMMENTS below.
Follow me on Facebook and Youtube.
Happy Trading and Happy Money Making!