Let's for a minute forget what happened Friday. But a mystery unblocked is if Nifty Fall a Relief or a Long Trend.
Profit booking is good in the market. But also Mr. Warren Buffett mentions:
Be Fearful when the Market is Greedy and Be Greedy when the market is fearful. 
A mighty richest man in the world is worth this advice and you and I are worthy to take this advice.
Nifty Fall a Relief or a Long Trend on 22nd Aug 22?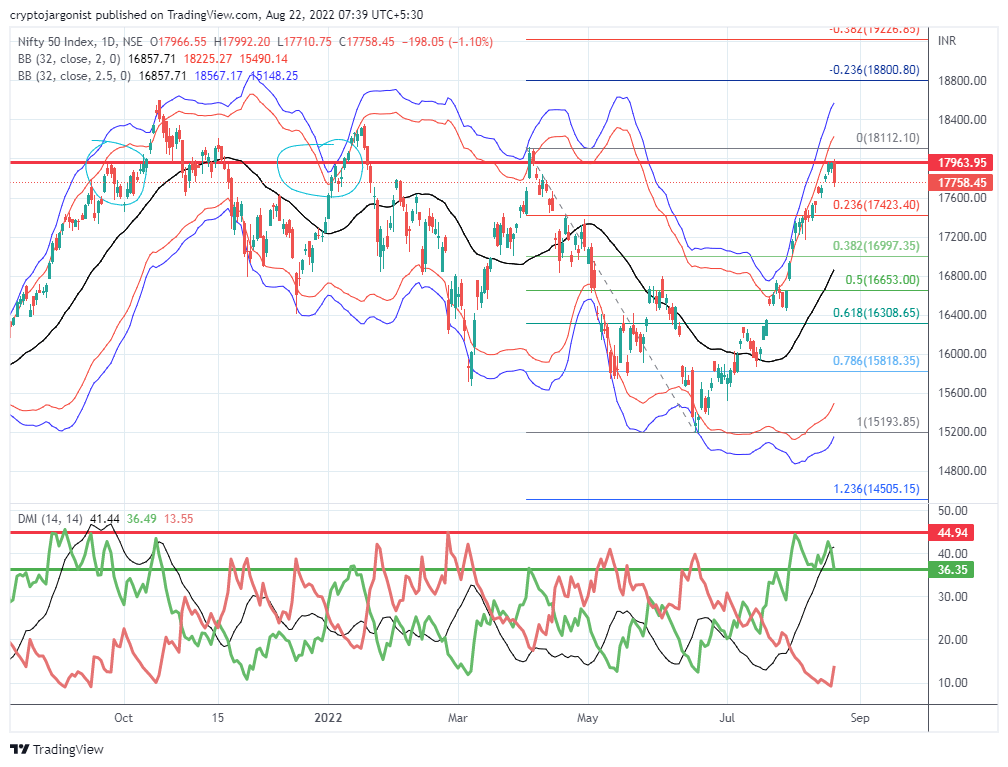 Many factors are against the market, like the huge resistance at 17950 levels.
Directional Movement Indicator is retracing down, though it's at the support, we will see a support break today.
We did retrace before reaching 18112 levels, which is the top we had plotted as per Fib Retracement meaning bears in control.
Fall on Friday created a Bearish engulfing candle which is a huge bearish sign.
Global markets are tumbling which means further fall today.
2) SGX Nifty Trend for Today on 22nd Aug 2022:
Today on 22nd August 2022 SGX Nifty is showing a 68 Point LOWER move at around 7:53 AM when I am writing this article.
SGX Nifty Trend on Live Chart denotes that the Indian Markets will react NEGATIVE.
So Indian markets especially Nifty Trend Today would have a NEGATIVE start.
3) World Market Analysis for Aug 22, 2022:
S&P 500: 55.24 (-1.29%)
NASDAQ: 263.09 (-1.95)
Dow Jones: 292.3 (-0.86%)
Nikkei: 122.86 (-0.42%)
World markets are tumbling and face a fall all over.
A sure sign when markets reach the highest levels in Technical Charts.
4) Nifty Supports and Resistances:
Nifty Supports: 17700, 17639, 17600, 17595, 17566, 17500
Nifty Resistances: 17794, 17842
GOOD READ: How To Choose The Best Option Strike Price For Landmark Success?
5) Nifty Fall a Relief or a Long Trend on 22nd Aug 22 Conclusion:
Nifty fall shows that technical analysis is a sign of reversal.
Global markets are also supportive of the fall, a sure sign of technical analysis highs.
if we see a continuation in the negativity today, it's a sure sign of fall at least till 16857 levels.
Bollinger bands have opened its mouth very wide, when the crocodile opens its mouth very wide, its pressure of closing is very high!
Resistance is less and support is huge meaning the greatness of the market is still ready to unfurl.
All in all, supports are all over and resistance is nearly low.
MUST-READ: Can Day Trading Make You Rich For an Exhilarated Excuse Free Life?

Considering the trends globally and Technical Analysis Nifty Trend Today is NEGATIVE.
Please let me know your thoughts about today's Nifty Fall a Relief or a Trend Reversal in the COMMENTS below.
Follow me on Facebook and Youtube.
Happy Trading and Happy Money Making!