Can Nifty Scale More Analysis for 29 July 2022 shows how Pushy Sales Man Nifty is!
Yesterday's Deep Analysis of Nifty showed that the directional movement indicator is at great support. Check the chart of yesterday.
Why a salesman and why pushy? I'll answer them for you below.
Can Nifty Scale More Analysis for 29 July 2022?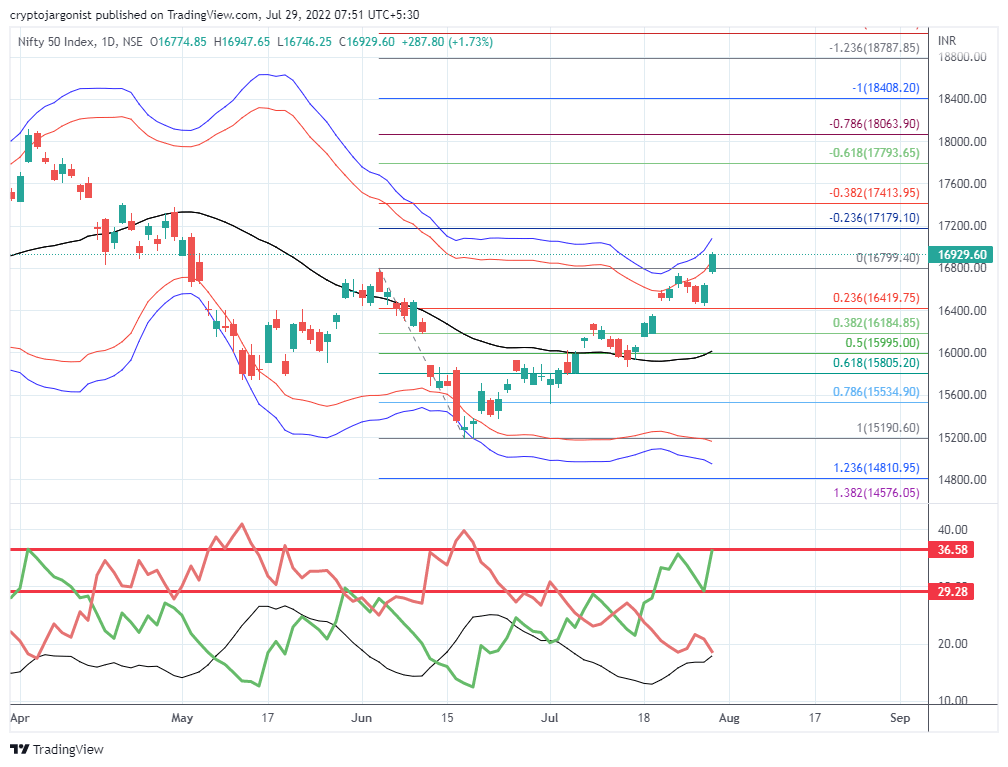 There is a saying in Hindi "Dene Wala Jab Bhi Deta, Deta Chappar Phaad Ke". meaning when the giver starts giving, he'll give endlessly.
As though the 1.7% highs were not enough yesterday, today SGX Nifty is Up and Above screaming the highs.
The Directional Movement indicator had never screamed the trend change so effortlessly before. I've marked the support and resistance in this indicator in the image above.
Nifty scaled the highs of the peak at 16799 and closed at a level we could not expect at 16929!
Bollinger Bands have spread its wings to show its strength in the market and is showing expansion.
2) SGX Nifty Trend for Today on July 29, 2022:
Today on 29th July 2022 SGX Nifty is showing a 220 Point HIGHER move at around 8:01 AM when I am writing this article.
SGX Nifty Trend on Live Chart denotes that the Indian Markets will react hugely POSITIVE.
So Indian markets especially Nifty Trend Today would have a probably POSITIVE start.
3) World Market Analysis for 29 JULY 2022:
S&P 500: 48.81 (+1.21%)
NASDAQ: 116.4 (+0.92%)
Dow Jones: 332.04 (+1.03%)
Nikkei: 129.09 (+0.46%)
Today's global markets have literally stuck a jetpack to Nifty's Ass and showing Propulsion Higher!
4) Nifty Supports and Resistances:
Nifty Supports: 16800, 16796, 16766,16700,
Nifty Resistances: 17078, 17179
GOOD READ: How To Choose The Best Option Strike Price For Landmark Success?
5) Can Nifty Scale More Analysis for 29 July 2022 Conclusion:
SGX Nifty and world markets are super topped up and literally pushing Nifty higher.
Bollinger Bands have spread its wings showing strength in the market to scale higher.
This is the first higher high, we have seen in months now. Meaning POSITIVITY.
Since the gap up today may propel the Nifty above 17050, 17000 will act as huge support.
The money Flow index shows red hot on Nifty Futures for September.
Since global markets have fit rockets to Nifty's Ass, we will see higher payload delivery towards 17200.
MUST-READ: Can Day Trading Make You Rich For an Exhilarated Excuse Free Life?

Considering the trends globally and Technical Analysis Nifty Trend Today is highly POSITIVE.
Please let me know your thoughts about today's deep analysis of Nifty in the COMMENTS below.
Follow me on Facebook and Youtube.
Happy Trading and Happy Money Making!