Indian Nifty Chart Analysis for 20 July 2022 shows you are on the verge of profits.
Though SGX Nifty is 175 points in POSITIVE, it's not going to be a straight UPMOVE like Yesterday's Technical Analysis.
Yesterday Indian Nifty Chart Analysis showed a straight move up though markets opened a gap down.
Today's ball game is a bit different.
Indian Nifty Chart Analysis for 20 July 2022: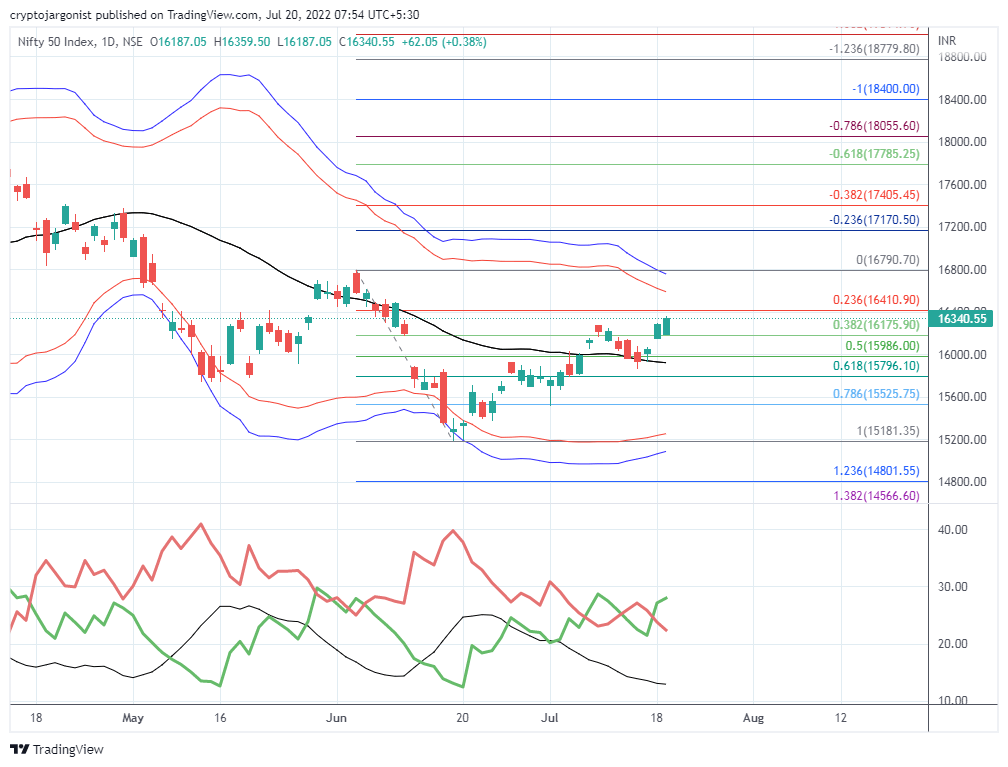 Now Bulls and Bears are straight ahead going to lock horns for market share.
16410 will act as resistance, though we may open GAP UP in today's opening.
It's not a possible straight market like I mentioned in the Nifty 50 Analysis for 19 Jul 2022 to Beat Market Gurus.
Big boys are going to look for booking profits at the highest levels now.
Small guys would like to ride the highs and buy more, which will prove to be a BLUNDER.
2) SGX Nifty Trend for Today on July 20, 2022:
Today on 20th July 2022 SGX Nifty is showing 187 Points HIGHER move at around 8:02 AM when I am writing this article.
SGX Nifty Trend on Live Chart denotes that the Indian Markets will react POSITIVE.
So Indian markets especially Nifty Trend Today would have a probably POSITIVE start.
3) World Market Analysis for 20 JULY 2022:
S&P 500: 105.83 (+2.76%)
NASDAQ: +371.92 (+3.13%)
Dow Jones: +754.44 (+2.43%)
Nikkei: +637.86 (+2.37%)
World markets are master blaster positive in excess of 2.5% in previous sessions, which denotes HUGE Positivity denoting a positive UPmove during and after the opening of the markets.
4) Nifty Supports and Resistances:
Nifty Supports: 16183, 16200, 16275, 16300
Nifty Resistances: 16400, 16410, 16492, 16514, 16586.
GOOD READ: How To Choose The Best Option Strike Price For Landmark Success?
5) Indian Nifty Chart Analysis Conclusion:
US Markets are Up and Above 2.5% in yesterday's session, denoting a huge +VE
SGX Nifty is 187 points higher denoting a HUGE GAPUP Opening.
Directional Movement Indicator has entered a zone where Highs would be cut off with a Profit Booking!
Though Markets are positive and supportive, we may shave some highs off due to the Bollinger resistance.
We'll see an opening above 16400 in today's session, and move towards 16500, but won't sustain by the end of the day, as per the charts.
MUST-READ: Can Day Trading Make You Rich For an Exhilarated Excuse Free Life?
Considering the trends globally and Technical Analysis Nifty Trend Today is hugely POSITIVE.
Follow me on Facebook and Youtube.
Happy Trading and Happy Money Making!