Nifty 50 Analysis shows Nifty hit a snag at the previous highs where Nifty retracted!
Though a slite above 16275, a previous high in Nifty, we see a close above 16278 as not so supportive for Nifty, YET!
We cruised ALL THE WAY UP, ALL THE WAY UP yesterday as per my Technical Analysis for 18 July but couldn't very well get a stronghold way above 16275.
But GOOD NEWS IS AT THE END OF THIS ARTICLE!
This means we will see some retracement down, not too much but till 16200 – 179 levels.
Nifty 50 Analysis for 19 Jul 2022: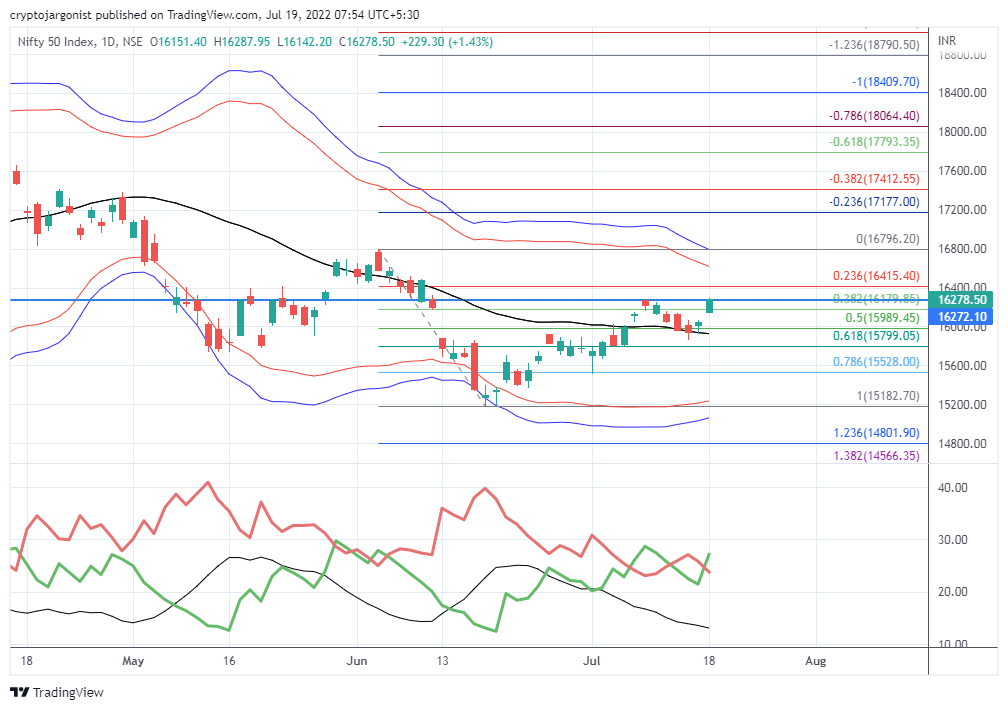 Nifty 50 Analysis shows that our resistance is straight head-on at 16275.
SGX Nifty shows a big boy cut on the index indicating a 100-point shave-off on the index.
Stronghold at 16200 – 179 levels for Nifty.
Runaway success is impossible with such turbulent air in the global markets.
2) SGX Nifty Trend for Today on July 19th, 2022:
Today on 19th July 2022 SGX Nifty is showing 127 Points LOWER move at around 8:02 AM when I am writing this article.
SGX Nifty Trend on Live Chart denotes that the Indian Markets will react NEGATIVE.
So Indian markets especially Nifty Trend Today would have a probably NEGATIVE start.
3) World Market Analysis for 19 JULY 2022:
S&P 500: -32.3 (-0.84%)
NASDAQ: –106.12 (-0.89%)
Dow Jones: -215.64 (-0.69%)
Nikkei: +188.92 (+0.71%)
World markets are NEGATIVE and not supportive, which denotes Negativity denoting a down move during and after the opening of the markets.
Though the Japanese markets Nikkei is positive, Indian markets is unlikely to take cues from it.
4) Nifty Supports and Resistances:
Nifty Supports: 16200, 16179, 16100, 15994
Nifty Resistances: 16275, 16318, 16400, 16415
GOOD READ: How To Choose The Best Option Strike Price For Landmark Success?
5) Nifty 50 Analysis for 19 July Conclusion:
This time, the Nifty is set to hit the highs of 16600 levels within this week or next. How? Bulls backing.
20-Day EMA is acting very supportively and if likely market gets turbulent, 15980 levels are a stronghold.
Nifty 50 showcases bear showing their footsteps often but bulls are backing the claims.
Though SGX Nifty is not supportive, we may see the points cut on Nifty may be covered due to Bulls holding the Key to Highs.

The way global markets are headed with crude seeing a cut, we may hit the high rather than the lows. 
MUST-READ: Can Day Trading Make You Rich For an Exhilarated Excuse Free Life?
Considering the trends globally and Technical Analysis Nifty Trend Today is NEGATIVE.
Follow me on Facebook and Youtube.
Happy Trading and Happy Money Making!