Nifty Trend For Wednesday 27 July 2022 shows bleakness.
I updated the Nifty charts on the 25th showing a possibility of a breakdown. Look at Nifty Chart Now!
Since I was on a vacation at Athirapally Falls, popularly called Bahubali Falls, I could not write the daily article.
Just to let you know, my previous subscribers have already gotten the news that Nifty was on the verge of a breakdown.
1) Nifty Trend For Wednesday on 27 July 2022:
It's proving the point, that technical analysis is the ultimate guard to the market's trend.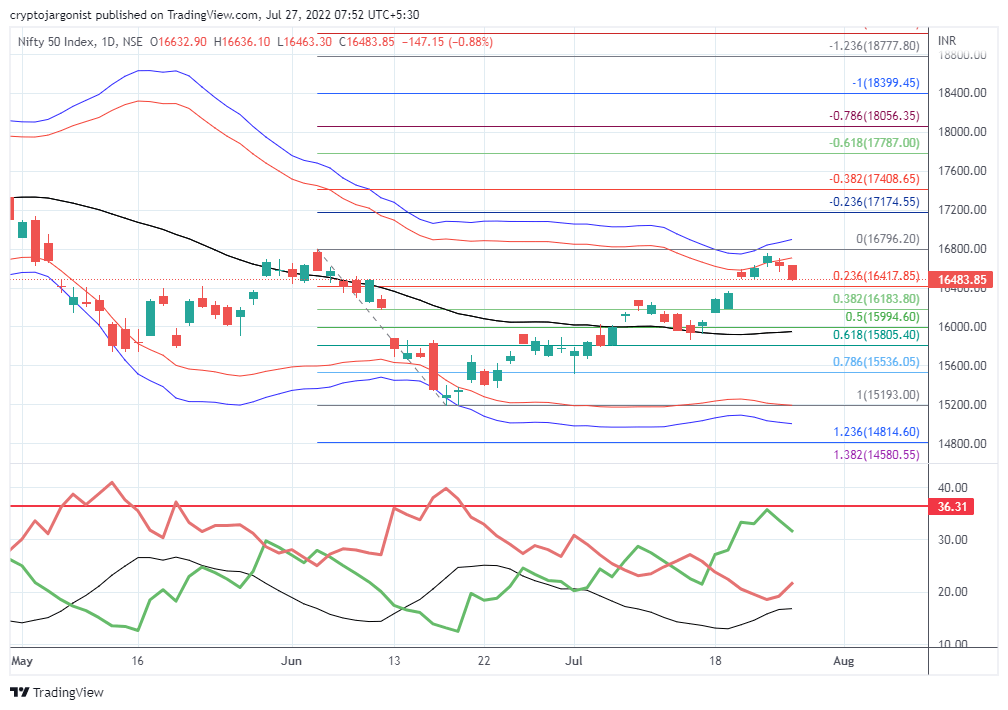 US Markets are up and above 1% NEGATIVE in Yesterday's session on 26th July.
The directional Indicator is at the resistance.
Bollinger Bands hit the highest level of resistance.
When all things fall negative, it means technical analysis has turned to resistance.
2) SGX Nifty Trend for Today on July 27, 2022:
Today on 27th July 2022 SGX Nifty is showing a 1 Point LOWER move at around 8:03 AM when I am writing this article.
SGX Nifty Trend on Live Chart denotes that the Indian Markets will react NEGATIVE.
So Indian markets especially Nifty Trend Today would have a probably NEGATIVE start.
3) World Market Analysis for 27 JULY 2022:
S&P 500: 45.79 (-1.15%)
NASDAQ: 241.52 (-1.96%)
Dow Jones: -228.5 (-0.71%)
Nikkei: 37.7 (+0.14%)
US Markets show NEGATIVE support, also the Nifty is on a brink of a breakdown and we may see a big downturn if we fall.
4) Nifty Supports and Resistances:
Nifty Supports: 16417, 16300, 16324, 16275
Nifty Resistances: 16500, 16610, 16695
GOOD READ: How To Choose The Best Option Strike Price For Landmark Success?
5) Nifty Trend For Wednesday Conclusion:
We are very near to great support at 16418 levels, if we fall down, we'll see a bounce back.
Great resistance is now waved off, as we are down 250 points from the highs, within just 2 days.
We've touched the head of the Bollinger Band and fallen down.
Support is near and resistance is far, so we'll have the possibility of a profit booking and may see some GREEN.
Since markets move up and down, not straight down, there is a possibility of a bounce if we see 16418 levels touched today.
MUST-READ: Can Day Trading Make You Rich For an Exhilarated Excuse Free Life?

Considering the trends globally and Technical Analysis Nifty Trend Today is slightly NEGATIVE.
Follow me on Facebook and Youtube.
Happy Trading and Happy Money Making!