We'll highlight the critical technical analysis for profits on 25th July in Indian markets.
If the Nifty touches 16791 and retrace, it's a double top!
Nifty Technical Analysis for Profits on 25th July 2022: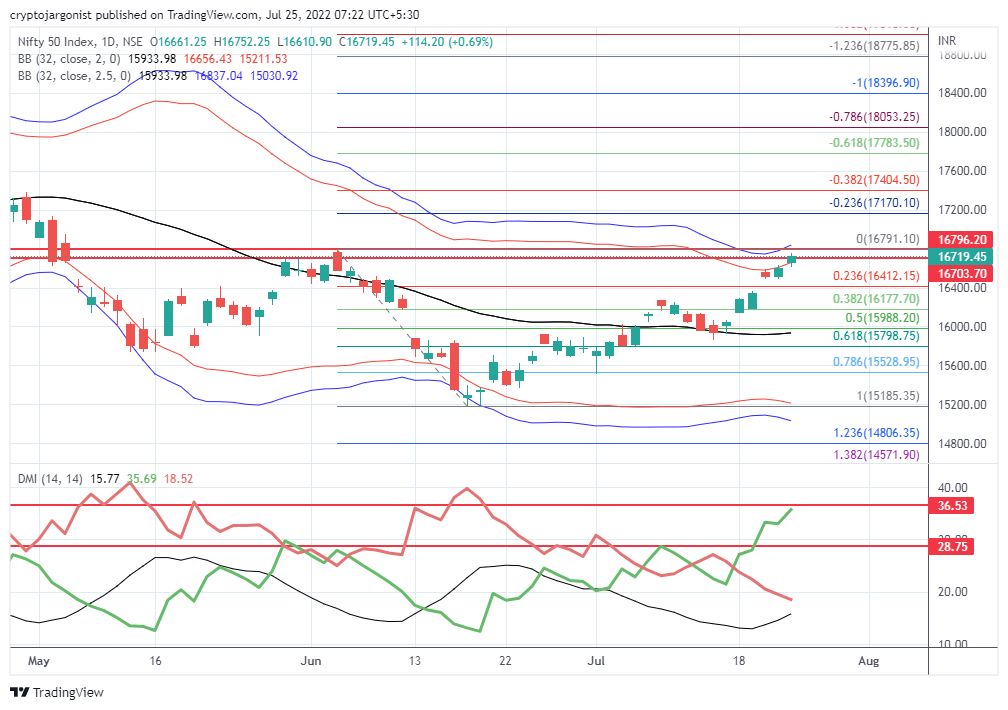 Nifty is showing double resistance on the highs it has scaled to.
Nifty also has resistance at the directional movement indicator.
Also, Fibonacci shows a nearby resistance at 16791 levels.
SGX Nifty is also showing a negative on the index!
The way the highs are scaled up in this leg as seen from the median on Bollinger Bands is way too straight meaning, the chance of collapse is high.
SGX Nifty Trend for 25 July 2022:
SGX Nifty shows 72 points LOWER and denotes a NEGATIVE start for Indian Markets.
Nifty Support and Resistances:
Nifty Supports: 16626, 16500, 16492
Nifty Resistances: 16791, 16695
Nifty Technical Analysis Conclusion:
Since the Nifty is on a verge of a breakdown, we may see some extended losses.
Resistances are widespread.
SGX Nifty's negativity is backed by US markets negativity of 1% and more on Friday's closing.
Even Nikkei, Japanese markets are down 1% showing negativity in the market.
Seeing the parameters above, Technical Analysis for Profits shows that Nifty Trend Today is NEGATIVE.