Let's see the Helpful Books On Stock Market Basics to be a fearless informative trader in this article.
A stone should take 1000 beatings. Because of that, a sculpture is carved.
Reading books on Stock Market Basics is very much important. This results in an enhanced basics knowledge of stock markets.
Let me tell you over a period of the last 8 years of full-time trader experience, I've at least read 20 – 25 stock markets books.
Here in this article, I'll recommend whatever, I've read and noticed, it is helpful in the Indian market context.
An informed trader makes the right choice of right trading as he knows the stock market basics well. It's quite knowledgeable to know how much a day trader can earn in Indian markets.
Without further ado, let's understand the best empowering books on stock market basics for smart traders.
GOOD READ: What Investments Have The Best Returns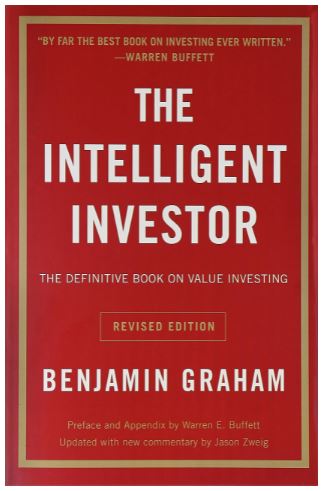 The richest person in the world Mr. Warren Buffet is mentored by Mr. Benjamin Graham.
This book "The Intelligent Investor" is a book called the Bible of Stock Market.
On Amazon, there is a whopping, 24897 ratings at 4.5 stars. 
What does The Intelligent Investor Cover:
It's a deep insight into dividends, stock market investment, Investment of terms of speculation, etc.
Here are the contents of the book in brief:
1. Investment versus Speculation: Results to be expected by the intelligent investor
2. The Investor and Inflation
3. A century if Stock Market Histor: The Level of Stock Prices in Early 1972
4. General Portfolio Policy: The Defensive Investor
5. The Defensive Investor and Common Stocks
6. Portfolio Policy for the Enterprising Investor: Negative
Approach
7. Portfolio Policy for the Enterprising Investor: The Positive Side
8. The Investor and Market Fluctuations
9. Investing in Investment Funds
10. The Investor and His Advisers
11. Security Analysis for the Lay Investor: General Approach
12. Things to Consider About Per-Share Earnings
13. A Comparison of Four Listed Companies
14. Stock Selection for the Defensive Investor
15. Stock Selection for the Enterprising Investor
16. Convertible Issues and Warrants
17. Four Extremely Instructive Case Histories
18. A Comparison of Eight Pairs of Companies
19. Shareholders and Managements: Dividend Policy
20. "Margin of Safety" as the Central Concept of Investment
So go ahead, read The Intelligent Investor Now.
GOOD READ: Stock Market Basics for Beginners – Crucial Advice For Anyone Starting to Invest in Stock Market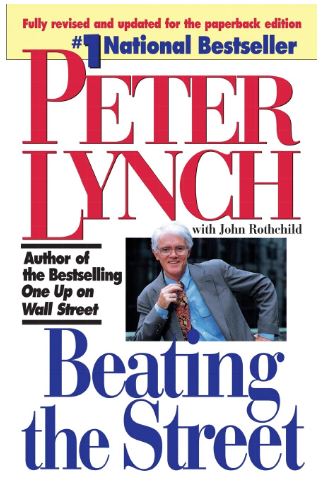 The best book for understanding the basics of stock markets. The book talks about when to buy high P/E stocks and when not to purchase low P/E stocks.
How to analyze company fundamentals, how to diversify your portfolio, and choose the best mutual funds suited for you.
Lots of golden nuggets hidden in the book on choosing the best stocks for trading or investing.
Lynch says it's unwise to invest in cyclicals (automobile, metals, etc.) for the long term, as it might go nowhere after 20 years. What's wise is to invest in one right at the time at the fall, which may lead to multi-bagger investment, and sell just around the boom.
If one fails to do so, the price may fall again to where it was after finishing one full cycle of boom and bust.
This book is filled with many amazing insights.
Contents of Beating the Street
INTRODUCTION: Escape from Bondage
ONE: THE MIRACLE OF ST. AGNES
TWO: THE WEEKEND WORRIER
THREE: A TOUR OF THE FUND HOUSE
FOUR: MANAGING MAGELLAN: THE EARLY YEARS
FIVE: MAGELLAN: THE MIDDLE YEARS
SIX: MAGELLAN: THE LATER YEARS
SEVEN: ART, SCIENCE, AND LEGWORK
EIGHT: SHOPPING FOR STOCKS: THE RETAIL SECTOR
NINE: PROSPECTING IN BAD NEWS: HOW THE "COLLAPSE" IN REAL ESTATE LED ME TO PIER 1, SUNBELT NURSERY, AND GENERAL HOST
TEN: MY CLOSE SHAVE AT SUPERCUTS
ELEVEN: BLOSSOMS IN THE DESERT: GREAT COMPANIES IN LOUSY INDUSTRIES
TWELVE: IT'S A WONDERFUL BUY
THIRTEEN: A CLOSER LOOK AT THE S&LS
FOURTEEN: MASTER LIMITED PARTNERSHIPS: A DEAL WITH A YIELD
FIFTEEN: THE CYCLICALS: WHAT GOES AROUND COMES AROUND
SIXTEEN: NUKES IN DISTRESS: CMS ENERGY
SEVENTEEN: UNCLE SAM'S GARAGE SALE: ALLIED CAPITAL II
EIGHTEEN: MY FANNIE MAE DIARY
NINETEEN: TREASURE IN THE BACKYARD: THE COLONIAL GROUP OF MUTUAL FUNDS
TWENTY: THE RESTAURANT STOCKS: PUTTING YOUR MONEY WHERE YOUR MOUTH IS
So if you want to read, "Beating the Street", you are up for a juicy ride in the future to capture the right investment at the right time.
GOOD READ: Options Training Session 1: 5 Option Trading Tips that Stock Market Courses Don't Ever Teach
3) 
How to Avoid Loss and Earn Consistently in the Stock Market by Prasentjit Paul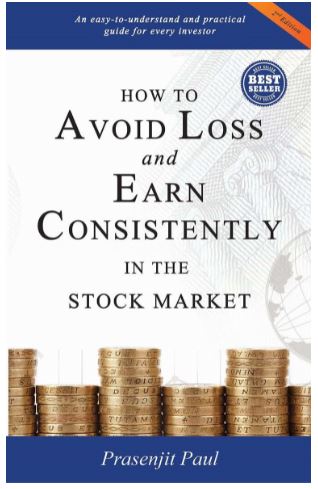 If you are choosy on some books on stock market basics, How to Avoid Loss and Earn Consistently is a must-read.
With around 2674 ratings of 4.4 stars, this is the best reads in the stock markets category.
What is surprising is that many investors I personally know make the mistakes that are described in the book.
Reading this book has motivated me to invest in stocks.
The author gives very good examples and it's written in a conversational style and is very applicable to Indian markets.
There are some interesting insights about certain tricks of the trade. Also, good to see some analysis of Indian stocks and some backstories.
All in all, it does cover the basics of stock markets and stock picking well.
So go ahead, Read How to Avoid Loss and Earn Consistently and benefit from the well-written Indian Context Book.
GOOD READ: Options Trading Basics Session 2 – What Are Options? What do Puts and Calls mean in Futures and Options trading in India?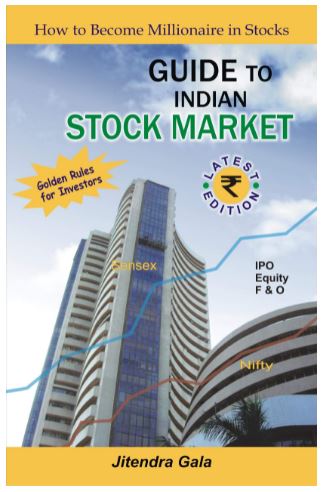 This book covers the width and height of Indian Stock Markets well.
Having 161 4 * reviews gives it an edge over others.
It's easy English is the easiest way to describe all things especially for beginners in stock markets.
A must-buy for people who do not know anything about the market and want to start it.
So go ahead, read Guide to Indian Stock Market and understand the ins and out of Indian Stock Markets.
GOOD READ: 11 Things to Learn Before You Want to Know How do I start with stock trading in India?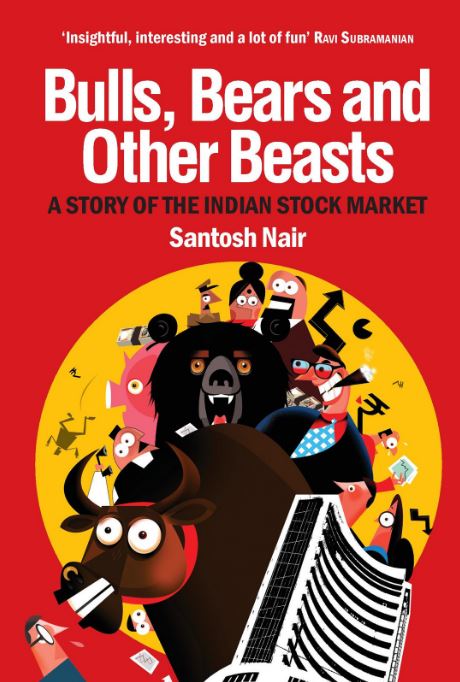 One of the best-scored books, I've read about stock markets wrt. India.
An interesting element of the book to me was the marriage of fictional and non-fictional material without making it disjointed at any given point in time.
Those who have witnessed the times mentioned in the book will agree on how accurately the events/situations have been described.
This book has been a revelation for me. Written in an easy style that is never overwhelming at any point to the reader, the book takes us on a journey from the early days of BSE.
At the end of the book, I realized how the markets are operated and manipulated by traders, promoters, and institutional investors.
Contents of the Book: 
1. A Troubled Adolescence
2. The Road to Dalal Street
3. Learning the Nuts and Bolts
4. The Tricks of the Trade
5. The Republic of Dalal Street
6. The Rise of Harshad and the Equity Cult
7. Dalal Street Gets a New Big Bull
8. Swimming against the Tide
9. A Fresh Start, a New Mentor
10. Not Black, but Grey
11. Winds of Change
12. Money for Jam
13. Another Bubble Bursts
14. Storms of Change
15. Caught in a Global Whirlpool
16. Swimming in the Deep Sea
17. A New Bull Market with a New Big Bull
18. Rumblings of Another Crash
19. From Bad to Worse
20. Penny Wise, Pound Foolish
21. Back on the Slow Track
22. In the Name of Wealth Creation
23. A Booming Primary Market
24. No Stopping the Bulls
Lala ji has described it well wrt. to how his journey into BSE, and his great insights tickle us and gives goosebumps.
Read the Bulls, Bears and Other Beasts book Now.
GOOD READ: [Answered] How To Trade In Sgx Nifty From India? Can Indian Trade In Sgx Nifty?
So here are the 5 Must-Read books on stock market basics to be an informed trader or an investor.
I've only covered what, I've read in my 8 years career of full-time trader.
Many may ask about, One Up On Wall Street and The Warren Buffet Way, but, I only teach, what I preach.
I put the mouth where my word is. I only recommend what I feel is better as a basic stock market trader/investor.
So if you like my review, purchase the books and read them, and be an empowered trader.
GOOD READ: What Investments Have The Best Returns
Follow Me on Exotic Investment Facebook Page. 
Happy Trading and Happy Money Making!