A great fight between bulls and bears shows Nifty Levels of Highs for 3rd August reveals great Fighting Spirit.
In a fight club, we see Bulls and Bears running a Tug of War which is taking a new route.
One of the Hands is starting to OVERPOWER the market. 
1) Nifty Levels of Highs or Lows for 3rd August 2022?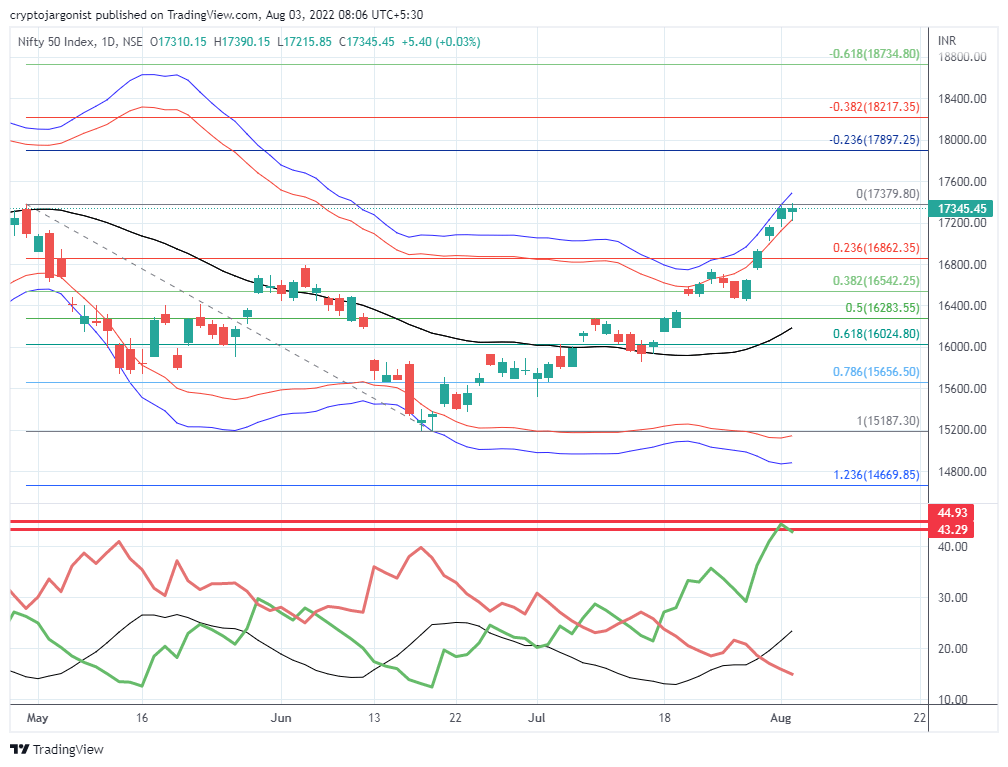 It's so hard to maintain composure and hold onto the levels of highs. This is a sign of breaking the resistance.
Though the market opened around 17310 and went down till 17215, BUT, went up to 17390 levels which is commendable.
It's very hard not to forget the highs of Bollinger bands where Nifty is positioned.
The directional movement indicator is showing a sure sign of reversal from the highs.
Resistance is at the brink of hanging the head of Nifty with its resistance at 17377 because we saw a sure reversal from 17390 levels.
2) SGX Nifty Trend for Today on 3rd Aug 2022:
Today on 3rd August 2022 SGX Nifty is showing a 43 Point HIGHER move at around 8:16 AM when I am writing this article.
SGX Nifty Trend on Live Chart denotes that the Indian Markets will react POSITIVE.
So Indian markets especially Nifty Trend Today would have a probably POSITIVE start.
3) World Market Analysis for Aug 3, 2022:
S&P 500: 27.44 (-0.67%)
NASDAQ: 39.18 (-0.3%)
Dow Jones: 402.23 (-1.3%)
Nikkei: 146.26 (+0.53%)
Day before Yesterday, we saw lesser negativity by US markets and SGX saw 90-point negativity. Yesterday we see higher negativity in the US market. Today we see positivity in SGX and Nikkei is up by 0.5%.
4) Nifty Supports and Resistances:
Nifty Supports: 17223, 17132, 17000, 16979, 16926
Nifty Resistances: 17377, 17400
GOOD READ: How To Choose The Best Option Strike Price For Landmark Success?
5) Nifty Levels of Highs or Lows for 3rd August 2022 Conclusion:
Nifty shows sure signs of resistance yet persist.
Resistance plays its cards at 17377 levels and still holds a level of hanging sword above the head.
The directional movement indicator is showing signs of reversal from the resistance.
Yet bulls are kinda holding to their position and that's great news of breaking the barrier of resistance. 
MUST-READ: Can Day Trading Make You Rich For an Exhilarated Excuse Free Life?

Considering the trends globally and Technical Analysis Nifty Trend Today is POSITIVE.
Please let me know your thoughts about today's deep analysis of Nifty in the COMMENTS below.
Follow me on Facebook and Youtube.
Happy Trading and Happy Money Making!