Being a market veteran, Nifty Trend Analysis for 11th July 2022 predicts a steep cut in the market opening!
See my dear reader, Nifty trend analysis either required fundamental knowledge like India's growth story and EPS, etc.
Or requires a nifty today trend analysis with Technical Analysis as the base.
I've always tried to help you with Technical Analysis, as I hate reading the P&L statements, and making sense of conference calls from the company!
So let's barge into Nifty Trend Analysis for July 11, 2022, and see the Ups, Downs, and Closure levels. Shall We?
1) Nifty Trend Analysis for 11th July 2022:
Let's talk about what factors are in favor of Nifty and What are Against it with news and with chart.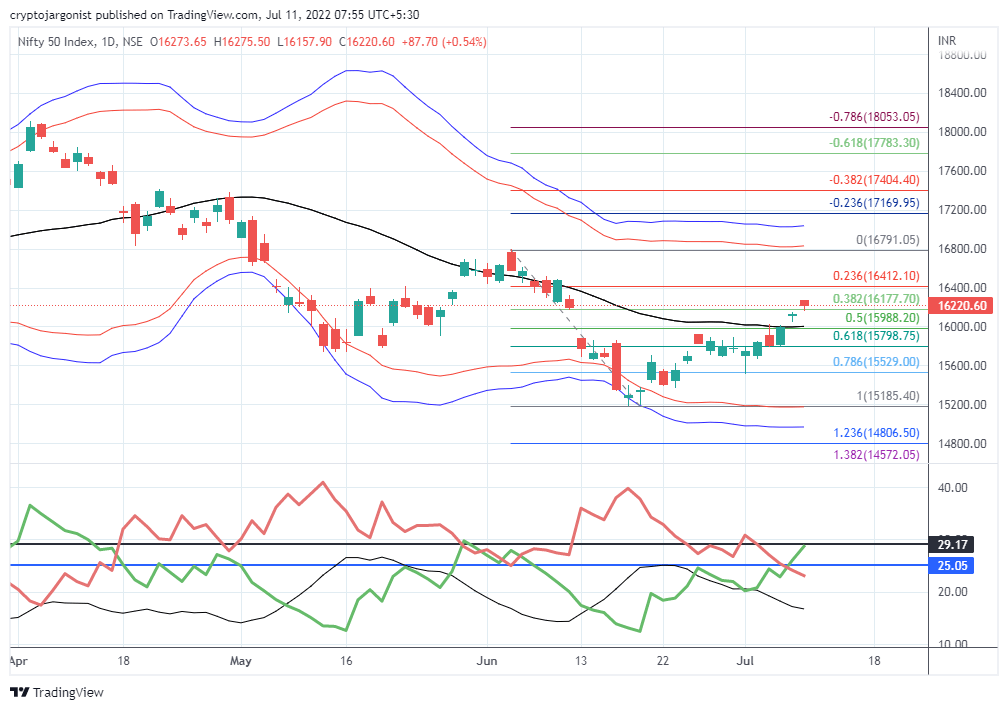 Nifty Directional Movement Indicator has hit a high where it usually finds resistance around 29 which is Against Nifty.
Fibonacci retracement from the recent top to bottom reveals Nifty has support at crucial levels of 16170-180 levels. If these levels are breached, Nifty may scale down to 15988 levels. Against Nifty.
Since Nifty is already above the biggest support of 16177, i.e. 38.2% leaves in a Fibonacci retracement, Nifty has a high chance to move higher. In Favor of Nifty.
SGX Nifty shows a 109-point cut in the trade, which means Nifty too would react negatively. Against Nifty.
Since SGX Nifty is +100 points lower, Nifty will open a gap down below 16170 – 180 which is the support level. Against Nifty!
2) SGX Nifty Trend for Today on July 11, 2022:
Today on 11th July 2022 SGX Nifty is showing 109 Points LOWER move at around 8:10 AM when I am writing this article.
SGX Nifty Trend on Live Chart denotes that the Indian Markets will react NEGATIVE.
So Indian markets especially Nifty Trend Today would have a NEGATIVE start.
3) World Market Live for 11 JULY 2022:
S&P 500: -3.26 (-0.08%)
NASDAQ: 16.64 (0.14%)
Dow Jones: -46.4 (0.15%)
Nikkei: 269.83 (1.02%)
World Markets show a mixed picture, though what matters most is the movement of SGX Nifty for the Gap Down of Nifty.
Though US markets showed a neutral move, it has no bearing on the beginning of the week in Idnia.
Though Nikkei 225 is positive, SGX Nifty is still negative, which bears the influential fruit for Indian Nifty.
So for Nifty trend analysis purposes, World Markets denote Nifty may move UP after the opening.
4) Nifty Supports and Resistances:
Nifty Supports: 16171, 16000, 15978, 15823
Nifty Resistances: 16200, 16300, 16324, 16412
GOOD READ: How To Choose The Best Option Strike Price For Landmark Success?
5) Nifty Trend for Today:
SGX Nifty is very Negative in today's session. It's unlikely that Nifty will open positive in today's session.
Since Nifty shows an inverted hammer formation on Friday, there is a chance that Nifty may settle below 16177.
If Nifty cannot cross 16177 at the close of the day, we'll see more negativity in tomorrow's session.
If Nifty breaches 16000 today, more landslide fall towards 15800 is possible because the Directional Movement indicator shows a huge resistance level entry.
MUST-READ: Can Day Trading Make You Rich For an Exhilarated Excuse Free Life?
Considering the trends globally and Technical Analysis Nifty Trend Today is NEGATIVE.
Follow me on Facebook and Youtube.
Happy Trading and Happy Money Making!