Pre Open Stocks and Nifty Analysis for 23 Mar 23 is Hit by Bear Paws.
Yesterday's Nifty was a 44 points higher close than the previous day, but closed in red compared to opening! This is a resistance bears fling to Nifty!
Learn Well: The Basics of Stock Market for Beginners Book by Ashok Kumar N Rao
1) Pre Open Stocks and Nifty Analysis for 23 Mar 23: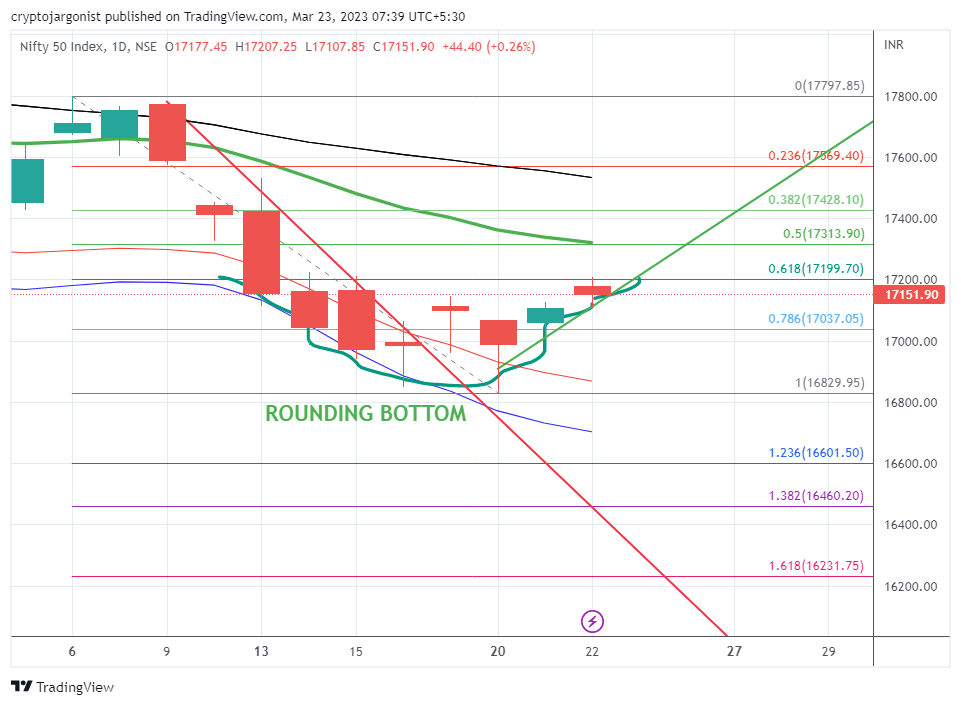 Since I have drawn the rounding bottom pattern, it will be easy for you to understand that bulls have an advantage around the lows.
You can for sure see that Nifty is holding the support at 16828 levels.
But yesterday's close was hit by a great resistance zone.
We can see here Nifty is giving up its profits at 17200 levels, which means this is a great resistance zone.
Since yesterday's US session was not positive and negative by 1% and more we will see some negativity in today's session.
From today we will be drawing Fibonacci retracement from the recent highs to the lows because yesterday's session touched the 61.8% retracement required for drawing Fibonacci levels.
MUST TAKE COURSE: Futures and Options Masterclass with 3 Strategies to Mint Money
2) SGX Nifty Trend for Today on 23 March 2023:
Today on 23rd Mar 2023 SGX Nifty is showing a 49 Points LOWER move at around 7:35 AM when I write this article.
SGX Nifty Trend on the Live Chart denotes that the Indian Markets will react NEGATIVE.
So Indian markets especially Nifty Trend Today would have a NEGATIVE start.
3) World Market Analysis for 23rd Mar 2023:
S&P 500: 65.88 (-1.65%)
NASDAQ: 174.29 (-1.37%)
Dow Jones: 530.49 (-1.63%)
Nikkei: 114.64 (-0.42%)
US markets were negative yesterday. SGX Nifty is negative too in the beginning now. Indian markets also will react Negatively following Global cues in the pre-open. 
4) Nifty Supports and Resistances:
Nifty Supports:  17132, 17000, 17098, 16991, 16955, 16855, 16771, 16747
Nifty Resistances:  17196, 17259, 17353, 17381, 17405,  17463, 17500, 17536, 17660, 17681, 17777
GOOD READ: How Insurance Works in India to Save You From Financial Hassles?
5) Pre Open Stocks and Nifty Analysis for 23 Mar 23: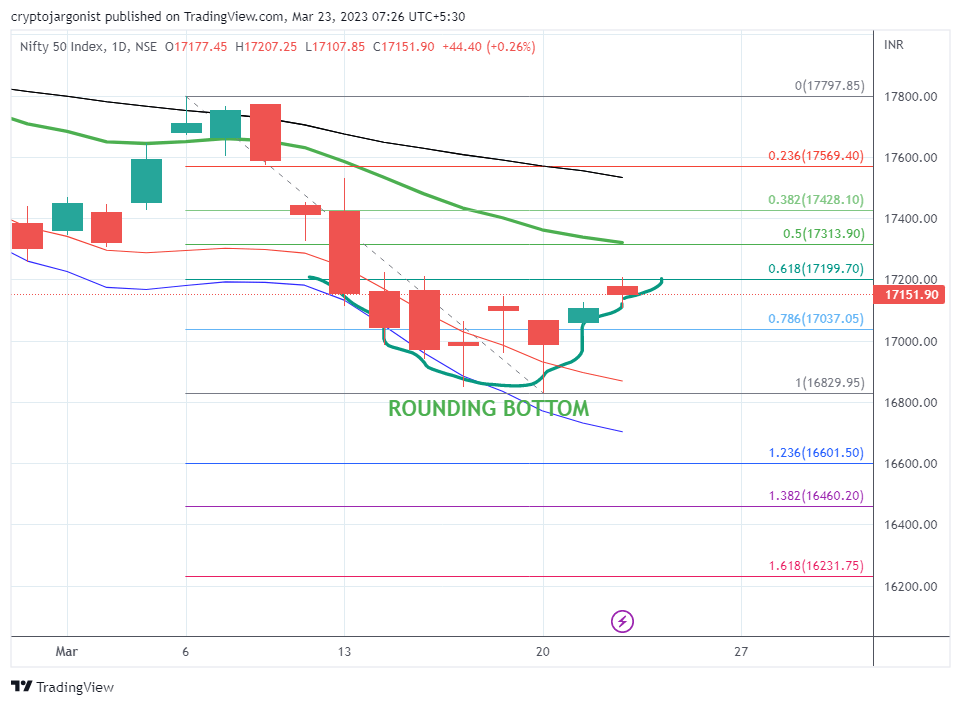 It is imperative to say that 17200 is a very great resistance.
We can see good support at 17037 as for the new Fibonacci retracement we have drawn from the recent highs to the lows.
The last three sessions of Nifty shows positive move showcasing there is a positive trend line we can draw.
The positive trend line has been held for now but today's session may break this positivity.
Since SGX Nifty is negative and the US markets have been utterly negative yesterday, we will see some red across the board in today's session.
MUST-READ: The Basics of Stock Market for Beginners
All in all, today Nifty will see some NEGATIVE moves in the beginning and may scale to support levels today.
Considering the trends globally and Technical Analysis Nifty Trend Today will start NEGATIVE.
Please let me know your thoughts about today's pre open stocks and nifty analysis post in the COMMENTS below.
Follow me on Facebook and Youtube.
Happy Trading and Happy Money Making!