Pre Opening Session Stock Market for 20 Mar 23 Shows Lower Momentum.
Past 7 days on the Nifty show every close is below its opening which is a loss of Momentum!
Learn Well: The Basics of Stock Market for Beginners Book by Ashok Kumar N Rao
1) Pre Opening Session Stock Market for 20 Mar 23: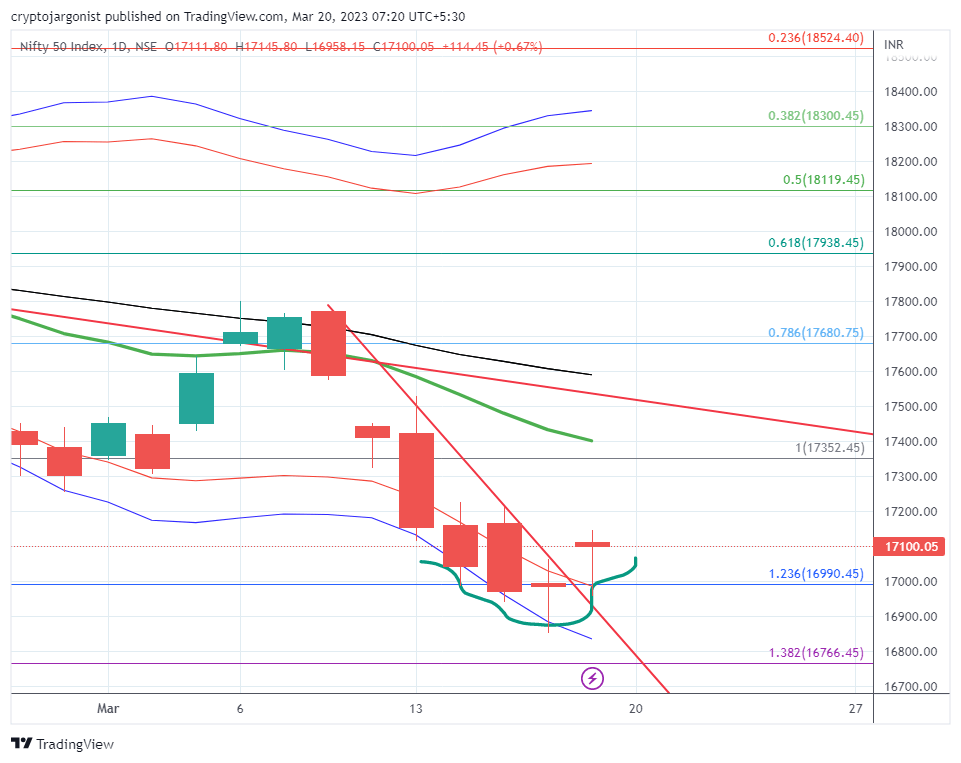 Though the Indian market seems to have a rounding bottom PC that the momentum is lost in the market.
The last seven sessions happened to be closing below their opening price.
This is a sure-shot sign of Lost momentum.
The last four sessions have contributed to the loss of 400 points and the gain of 300 points.
16990 is holding up as very good support for the Nifty.
We have broken the negative trendline for the last 6 days.
MUST TAKE COURSE: Futures and Options Masterclass with 3 Strategies to Mint Money
2) SGX Nifty Trend for Today on 20 March 2023:
Today on 20th Mar 2023 SGX Nifty is showing a 92 Points LOWER move at around 7:30 AM when I write this article.
SGX Nifty Trend on the Live Chart denotes that the Indian Markets will react NEGATIVE.
So Indian markets especially Nifty Trend Today would have a NEGATIVE start.
3) World Market Analysis for 20th Mar 2023:
S&P 500: 43.64 (+1.1%)
NASDAQ: 61.51 (-0.49%)
Dow Jones: 384.57 (-1.19%)
Nikkei: 181.01 (-0.67%)
US markets were greatly negative on Friday. SGX Nifty is negative in the beginning now. Indian markets also will react Negatively following Global cues in the pre-open. 
4) Nifty Supports and Resistances:
Nifty Supports:  17000, 16991, 16955, 16855, 16771, 16747
Nifty Resistances:   17098, 17132, 17353, 17259, 17196, 17381, 17405,  17463, 17500, 17536, 17660, 17681, 17777
GOOD READ: How Insurance Works in India to Save You From Financial Hassles?
5) Pre Opening Session Stock Market for 20 Mar 23 Conclusion: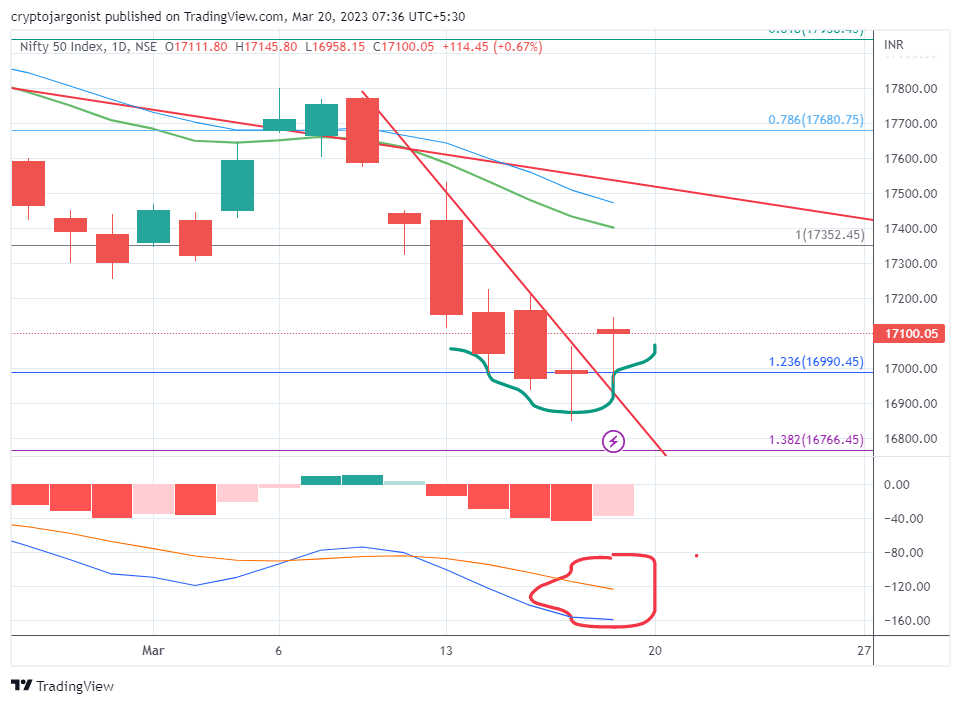 Look at the MACD of Nifty. It shows a widening in the momentum decline.
Thursday and Friday's sessions closed in positive because of Huge gap up openings.
But the chart still shows negative because it closed below its open.
This dying Momentum shows that the trend for the short term is to the south.
Negative TrendLine has been taken on the higher side, but chances of decline are still existing.
Today also we will open a gap down due to the global turmoil.
MUST-READ: The Basics of Stock Market for Beginners
All in all, today Nifty will see some NEGATIVE moves in the beginning and may scale to support levels today.
Considering the trends globally and Technical Analysis Nifty Trend Today will start NEGATIVE.
Please let me know your thoughts about today's pre opening session stock market post in the COMMENTS below.
Follow me on Facebook and Youtube.
Happy Trading and Happy Money Making!