Technical Analysis of Nifty on 26 Aug 2022 shows a Nifty sturdy and not vulnerable!
What a ride Nifty has had and it has stood the ride of time!
Technical Analysis of Nifty on 26 Aug 2022: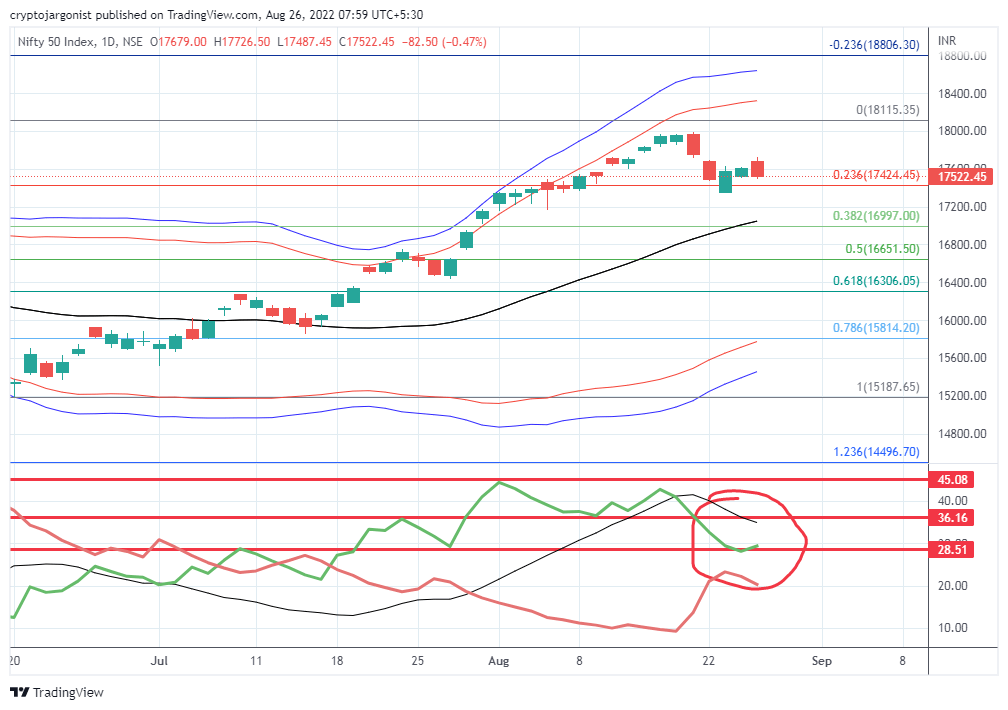 The average Directional Indicator is showing resilience which shows strength in the market.
We've tested the support and showing strength to move up.
We now have the support of US Markets too which started to show support.
2) SGX Nifty Trend for Today on 26th Aug 2022:
Today on 26th August 2022 SGX Nifty is showing a 97 Point HIGHER move at around 8:03 AM when I am writing this article.
SGX Nifty Trend on Live Chart denotes that the Indian Markets will react POSITIVE.
So Indian markets especially Nifty Trend Today would have a POSITIVE start.
3) World Market Analysis for Aug 26, 2022:
S&P 500: 58.35 (+1.41%)
NASDAQ: 225.72 (+1.75%)
Dow Jones: 322.55 (+0.98%)
Nikkei: 266.43 (0.94%)
US Markets are showing resilience and showing support which is good sign for the market to move up.
4) Nifty Supports and Resistances:
Nifty Supports: 17500, 17421, 17400, 17356, 17315, 17300
Nifty Resistances: 17599, 17630, 17794, 17842
GOOD READ: How To Choose The Best Option Strike Price For Landmark Success?
5) Technical Analysis of Nifty on 26 Aug 2022 Conclusion:
Nifty has a good stance to stop and retreat.
Supports are playing their role well.
Directional Movement Indicator is greatly in support.
The resistance is far away and support is all over.
Bollinger Bands have not retracted or compressed which is great sign.
All in all, supports are all over and resistance has slightly increased.
MUST-READ: Can Day Trading Make You Rich For an Exhilarated Excuse Free Life?

Considering the trends globally and Technical Analysis Nifty Trend Today is POSITIVE.
Please let me know your thoughts about today's Technical Analysis of Nifty in the COMMENTS below.
Follow me on Facebook and Youtube.
Happy Trading and Happy Money Making!