Crucial analysis of nifty 50 trading view denotes we should have a slight positivity to celebrate in today's market.
I've now gotten trading bots working my strategy, I still tend to trade my own Trend trading strategy as I did show the results in yesterday's nifty analysis.
Let's jump into more of a nifty 50 trading view analysis for 13th July 2022.
1) Nifty Trend Analysis For Today on 13th July 2022:
We had a steep fall as per yesterday's nifty 50 trading view chart.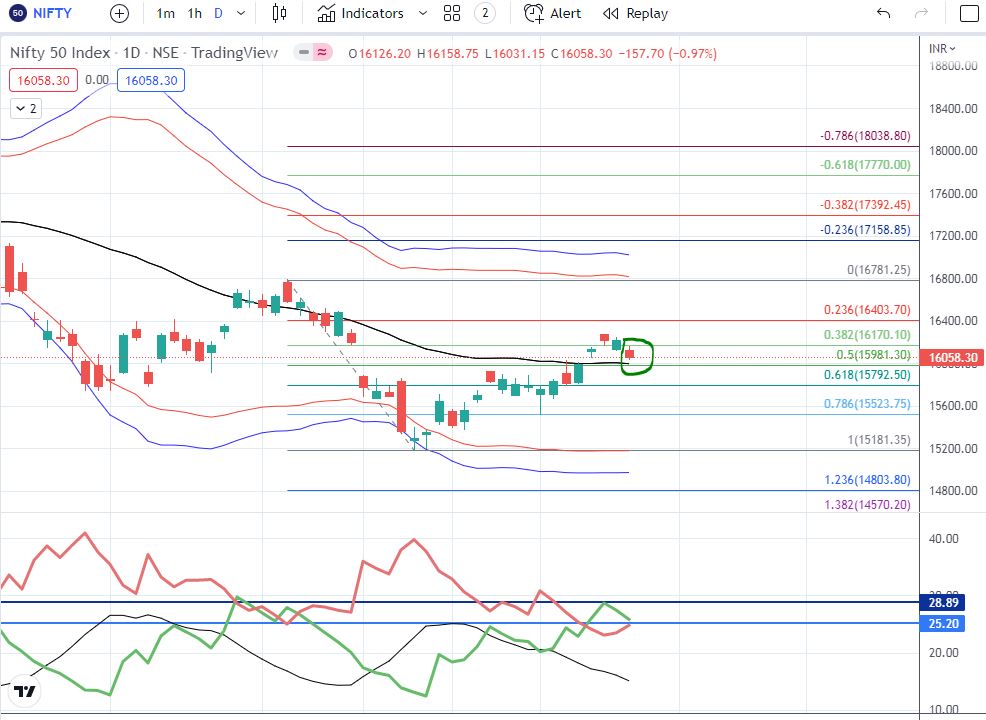 As we may see, the nifty 50 trading view chart denotes a support breach at the 16170 level, as we opened at the 16126 level in yesterday's session.
Though we see SGX Nifty Trend Chart on our side of 49 points positive, it's quite possible, that 16100 – 16170 acting as resistances.
Since the market is quite saturated from the Covid levels of dip to 7800 levels to 16000 levels on nifty 50, we see a strong urge of selling the rallies.
Though 16170 was tried to tamper with yesterday we did not have enough backing from Bulls.
15980 – 16000 are quite a support for Nifty and we feel that a big bull run if Nifty 50 falls to 16000 levels, will be triggered.
2) SGX Nifty Trend for Today on July 13, 2022:
Today on 13th July 2022 SGX Nifty is showing 59 Points HIGHER move at around 8:17 AM when I am writing this article.
SGX Nifty Trend on Live Chart denotes that the Indian Markets will react POSITIVE .
So Indian markets especially Nifty Trend Today would have a POSITIVE start.
3) World Market Analysis for 13 JULY 2022:
S&P 500: -35.65 (-0.92%)
NASDAQ: -115.3 (-0.97%)
Dow Jones: -192.51 (-0.62%)
Nikkei: +86.47 (+0.33%)
Though the world market is not in support, SGX Nifty denotes positivity. So Nifty Trend Today will be Mixed or Neutral at least in the beginning.
4) Nifty Supports and Resistances:
Nifty Supports: 16025, 15978, 15823
Nifty Resistances: 16000, 16170, 16200
GOOD READ: How To Choose The Best Option Strike Price For Landmark Success?
5) Nifty 50 Trading View Chart Analysis Conclusion:
SGX Nifty is slightly positive in today's session with 66 points positivity.
US Markets were very negative yesterday with almost 1% wiped out in each index.
Since we are very very close to the support at 16025 to 16000 levels, we'll have a bounce from the supports.
If trading view nifty 50 chart shows a cross of 16100 and closes in today's session above it, we may see levels move again to 16220 levels in tomorrow's session.
If the nifty 50 trading view chart shows negativity below 16000 close, we'll see Nifty only taking support at 15780 – 15800.
MUST-READ: Can Day Trading Make You Rich For an Exhilarated Excuse Free Life?
Considering the trends globally and Technical Analysis Nifty Trend Today is POSITIVE.
Follow me on Facebook and Youtube.
Happy Trading and Happy Money Making!