Nifty Chart Analysis for 23 Aug 2022 shows weakness in the markets and vulnerability.
In yesterday's Nifty fall a Relief post, I mentioned the trend is about to continue till 16857 levels.
Nifty Chart Analysis for 23 Aug 2022 Pros and Cons: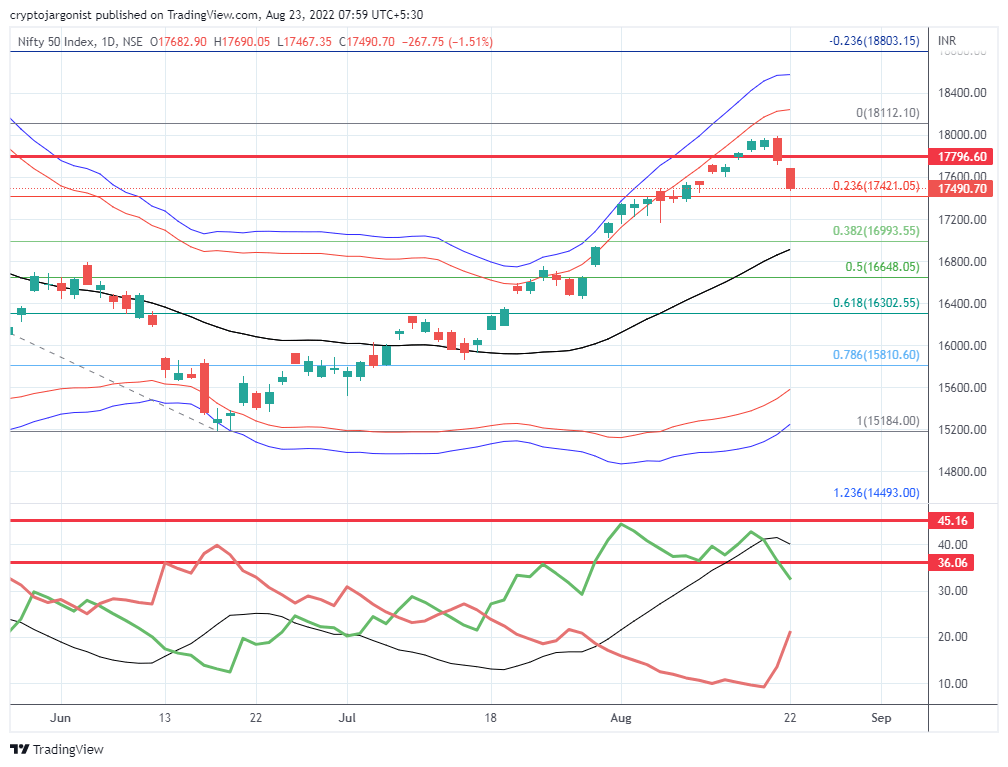 Mr. Warren Buffett mentions:
Be Fearful when the Market is Greedy and Be Greedy when the market is fearful. 
My emails resounded at the start of the fall. But many replied, why am I sounding negative? Because of the above statement and knowledge of the market.
No one can time the market and guess the peaks! Only we can be cautious.
Till the market glorifies the positivity, we move with it and around the peak, we should have caution!
Yesterday's Nifty index saw a 267 points downturn!
This is a continuation signal.
Also, this relentless fall saw no support! More on the supports below.
2) SGX Nifty Trend for Today on 23rd Aug 2022:
Today on 23rd August 2022 SGX Nifty is showing a 75 Point LOWER move at around 8:05 AM when I am writing this article.
SGX Nifty Trend on Live Chart denotes that the Indian Markets will react NEGATIVE.
So Indian markets especially Nifty Trend Today would have a NEGATIVE start.
3) World Market Analysis for Aug 23, 2022:
S&P 500: 90.49 (-2.14%)
NASDAQ: 352.16 (-2.66)
Dow Jones: 643.96 (-1.91%)
Nikkei: 337.56 (-1.17%)
US markets saw a huge fall upwards of 2 percent in red. So are Asian markets reacting today with little hope of recovery!
4) Nifty Supports and Resistances:
Nifty Supports: 17421, 17400, 17356, 17315, 17300
Nifty Resistances: 17500, 17599, 17630, 17794, 17842
GOOD READ: How To Choose The Best Option Strike Price For Landmark Success?
5) Nifty Chart Analysis for 23 Aug 2022 Conclusion:
The continuation of the fall in yesterday's market and more falls today is a technical high.
No support hold is a sign of concern as the market is set for a big fall.
Also, a new continuation sign is the directional movement indicator falling below supports.
When markets go up, it's a staggering move, when the markets fall, it's a steep move!
If support at 17421 doesn't hold, 17329 to 17200 is possible in today's session itself.
All in all, supports are all over and resistance has surely increased.
MUST-READ: Can Day Trading Make You Rich For an Exhilarated Excuse Free Life?

Considering the trends globally and Technical Analysis Nifty Trend Today is NEGATIVE.
Please let me know your thoughts about today's Nifty Chart Analysis in the COMMENTS below.
Follow me on Facebook and Youtube.
Happy Trading and Happy Money Making!