Nifty Chart Pattern Analysis for 15 July 2022 to help you Earn a Bumper from Technical Analysis. Nifty on a regular basis, makes you superb profits on the basis of technical analysis.
We can't stress enough how much you can profit from Nifty chart pattern analysis with trend trades!
Daily you may profit 2 – 3 times and for every 10 trades, 2 may hit a stop loss!
I Blogged about How a Government Employee can invest in the stock market? Read it now. 
Let's jump into the Nifty chart pattern analysis and analyze the Nifty chart for 15th July 2022.
Nifty Chart Pattern Analysis for 15th July 2022:
Yesterday I'd notified that in my 7th point of Nifty Charts Technical Analysis for 14th July 2022, Nifty support if tampered with, will drop to 15823 levels.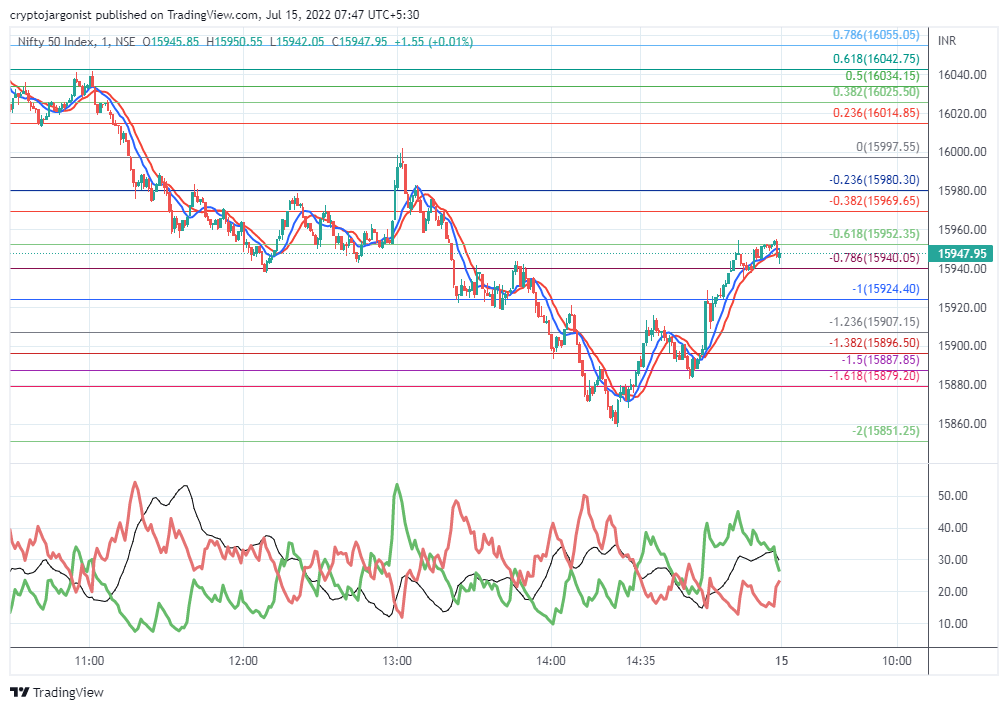 Can you imagine if you'd traded just the support breakdown, you could have earned a very decent 90 points on Nifty?
Let's look at today's Nifty chart pattern analysis: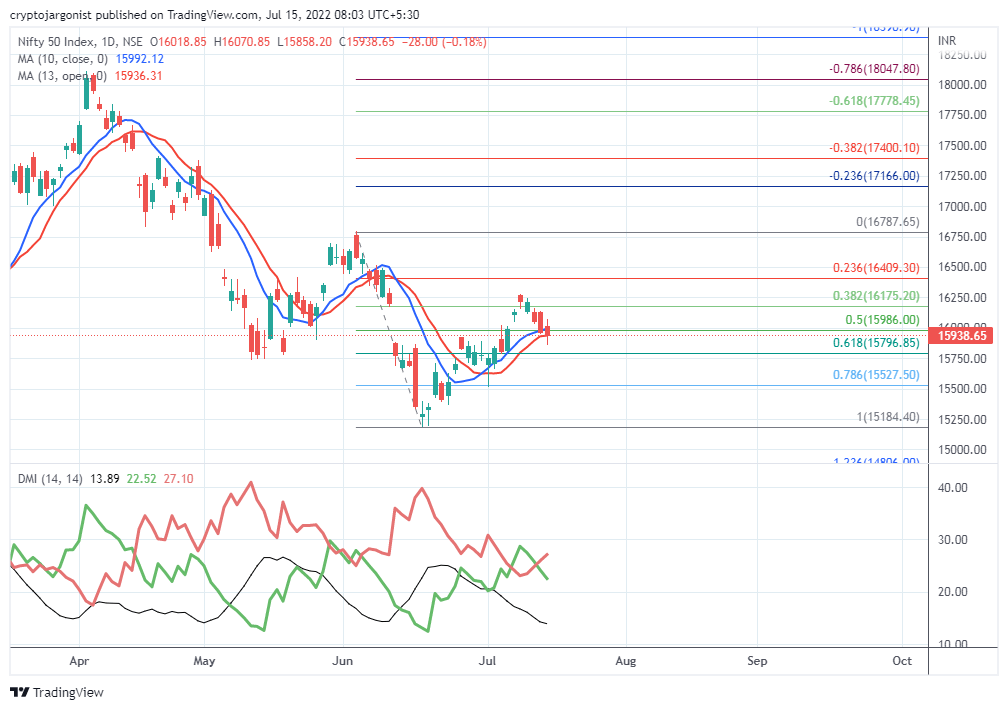 Nifty has held support at 15936 levels of 13 Day EMA. So possible that Nifty will see some positive move towards 16000 before it breaks down further.
Now a new kid is BORN. A new level of support at 15859! This will act as a shield before 15823 levels are tested.
It's likely that 15986 acts as resistance now since the previous support is now resistance.
If the weakness of $ to Rs. continues, Nifty is further gonna dive to 15796 to 15500 levels.
Though a big drop in crude prices is a relief and positive news for the market to cheer, it's highly unlikely we see fireworks in the market.
Possibly a 70 – 80 point move towards 16000 is likely in today's Nifty as per the technical analysis.
If resistance at 15980 – 16000 is broken it's likely tomorrow will be a move towards 16150 – 200 levels.
MUST READ: How a Government Employee can invest in the stock market?
2) SGX Nifty Trend for Today on July 15, 2022:
Today on 15th July 2022 SGX Nifty is showing 64 Points HIGHER move at around 8:10 AM when I am writing this article.
SGX Nifty Trend on Live Chart denotes that the Indian Markets will react POSITIVE.
So Indian markets especially Nifty Trend Today would have a probably POSITIVE start.
3) World Market Analysis for 15 JULY 2022:
S&P 500: -11.4 (-0.3%)
NASDAQ: +39.87 (+0.34%)
Dow Jones: -142.62 (-0.46%)
Nikkei: +154.1 (+0.58%)
World markets are supportive, which denotes slight positivity denoting a positive move after the opening of the markets.
4) Nifty Supports and Resistances:
Nifty Supports: 15936, 15900, 15859, 15823
Nifty Resistances: 15980, 16000, 16025, 16170
GOOD READ: How To Choose The Best Option Strike Price For Landmark Success?
5) Nifty Charts Technical Analysis for 15th July 2022:
Nifty chart pattern denotes positivity as its held the support.
SGX Nifty denotes a GAP UP and technical analysis denotes a positivity, meaning continuation of trend positively,
15951 will act as support since GAP UP will have a positive impact on markets.
Having said that Nifty is likely to be in a positive zone before the closure of the market today.
Likely we may close above 16000 in the Nifty chart today.
MUST-READ: Can Day Trading Make You Rich For an Exhilarated Excuse Free Life?
Considering the trends globally and Technical Analysis Nifty Trend Today is POSITIVE.
Follow me on Facebook and Youtube.
Happy Trading and Happy Money Making!