Nifty Futures Trading Formula is a strategy to trade nifty futures for daily profits and consistent gains.
Nifty futures trading formula gives you the immediate knowledge to be successful in day trading nifty futures.
I think it's totally required to make yourself well equipped for success with nifty futures trading.
You may be day trading nifty futures or hold it for delivery and you can still make money!
Day trading is a very good means of profit in the markets. Nifty Futures trading margin is absolutely required to trade in any of the broker's trading account,
I give amazing updates about the Nifty trend today early morning before 7:30 AM to equip your day trading success. As a result of this, so many of my followers get successful trading ideas daily on email.
My trading updates daily have SGX Nifty, US markets analysis, Nikkei, and Hangseng. Also technical analysis of Nifty including supports and resistances of the day.
Get Daily Nifty Trend Today Updates. Join 5,000+ Subscribers Who Receive Daily Updates and Trading Tips
So without further ado, let's learn the nifty futures trading formula for success.
Benefits of Nifty Futures Trading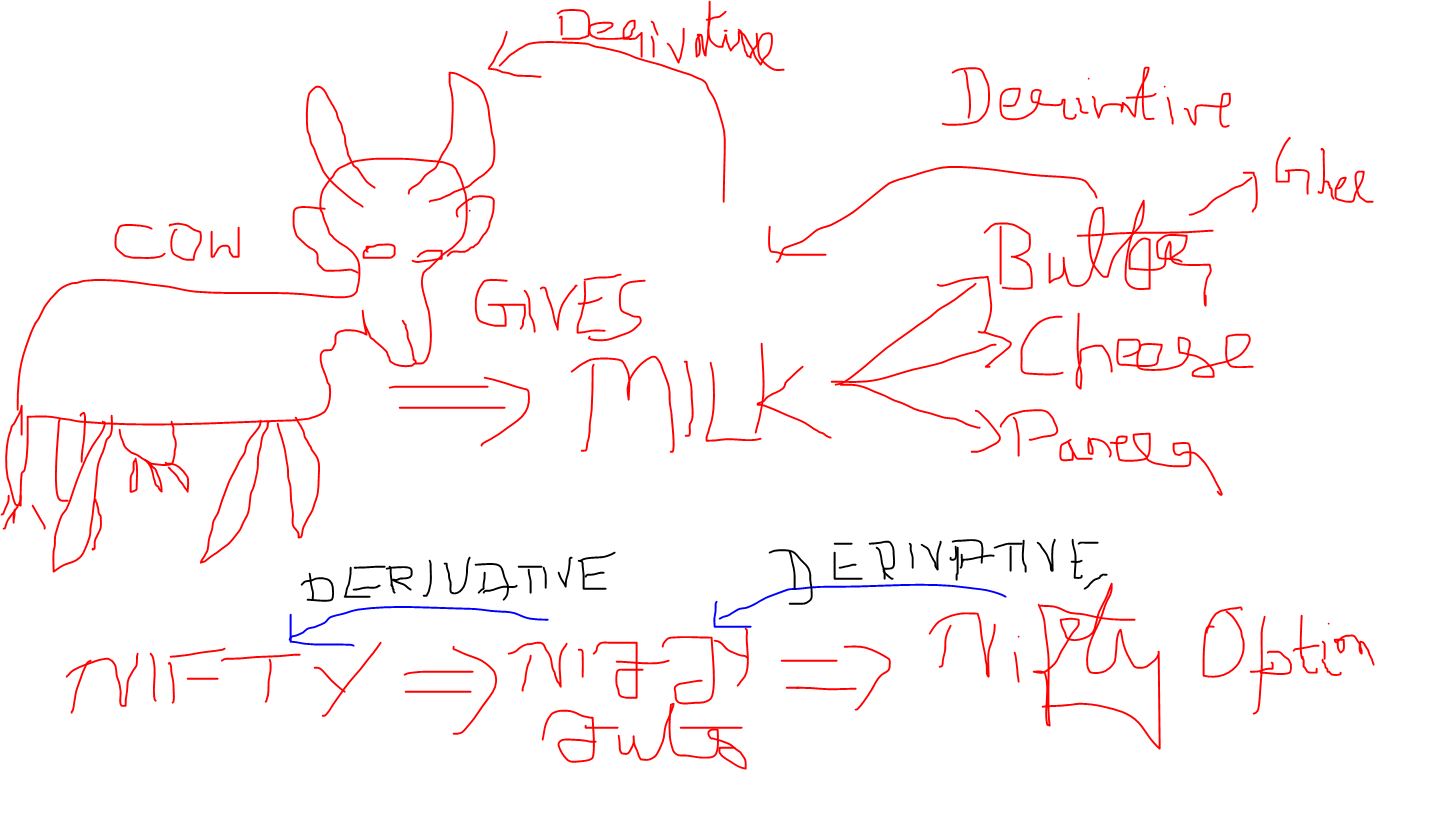 Nifty futures is the direct derivative of Nifty. As a result of this, we get to trade the greatest index with super liquidity.
Here we will experience the benefits of nifty futures trading to build our day trading plan.
Nifty index has given a whopping 67% returns just last year. As a result, Nifty futures grows better than Nifty.
Since Nifty futures has a monthly expiry, we get to trade higher and more stable futures every month.
Its growth curve is continuously up because it is the indication of Indian country's growth.
Nifty futures has its own chart so you may trade Nifty futures for direct profit, unlike options.
About 68% of the trades in Indian markets are on futures and options. Because of this you get to trade the most liquid underlying asset.
Nifty futures trading versus Nifty options trading
I have been day trading Nifty options for about 13 years now. There is no particular day when I don't trade options.
But when we have to compare Nifty futures and Nifty options trading, I would say Nifty futures trading is the best. Because we follow the Nifty future chart and trade in nifty futures itself.
This makes our life so much easier without having to choose the options to trade.
Let us now look at the advantages and disadvantages of trading futures vs options.
Nifty options have no chart. It follows the Nifty futures chart. As a result of it we have to look at Nifty futures charts and trade-in options which is tedious.
Nifty futures on another hand has the best liquidity but a lot of futures margins to trade.
Options trading requires absolutely no margins. As a result of it, we get to trade with very less investment.
Since Nifty futures follow Indian Nifty, changes per day are within the range of 1 to 2%.
Nifty options on the other hand may raise by up to 400% intraday.
I think this much distinction is enough for you to choose Nifty futures are Nifty options for or day trading.
Nifty Futures Trading Formula: what is it?
This strategy which I will reveal here is my most favourite and secretive strategy. As a result of this, you will earn lots of money e trading Nifty futures.
As we trade Nifty futures and follow the Nifty charts we have a great advantage of gaining more daily.
Because of nifty futures being so liquid, we tend to make at least 15 to 20 points on any dry day.
Market stalwarts classify Nifty trading into 3 sessions.
First session from 9:30 to 11:30 AM. Second session from 11:30 to 1:30 PM. Third session from 1:30 to 3:30 p.m.
The first session and the third session is the most profitable for trading Nifty futures. The second session has the interference of European markets and hence a biased move.
Without further ADO let us discuss what is Nifty futures trading formula.
Today I am going to teach you to formulas are strategies that make you great money.
1st Formula for Nifty Futures Trading Success
What are the indicators used for the formula?
A) Fibonacci Retracement only.
1st Formula Working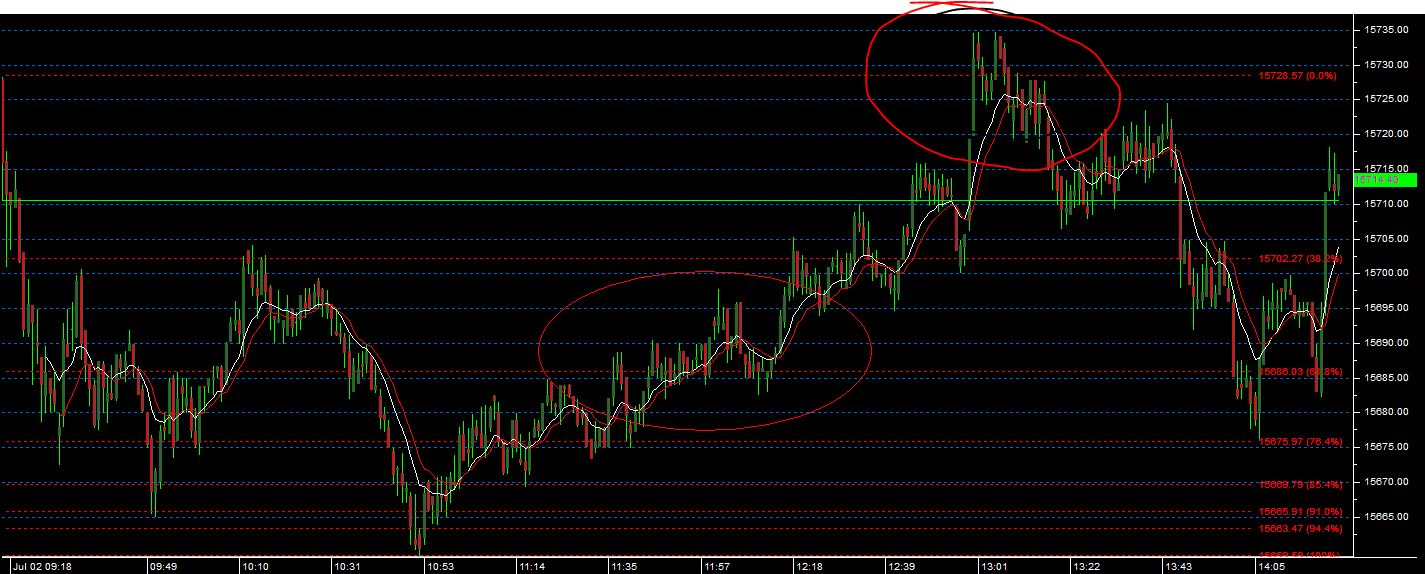 Draw Fibonacci retracement from 9:15 to 11:00 a.m. Highest to lowest or vice versa.
In the second session if the Nifty futures cross 61.8% on the higher side are 38.2% on the lower side, we'll take a trade.
If 61.8% is held as a support, buy Nifty futures it for a target to hit the highest within the first session.
Keep the stop loss at the consolidation zone below.
In case Nifty futures find the resistance in between, realize your profit early.
2nd formula for Nifty futures trading success
This is by far my most secretive formula. I have never revealed it before. As a result of it, you get to make a lot of profit regularly.
This I called a magical half percent gain formula.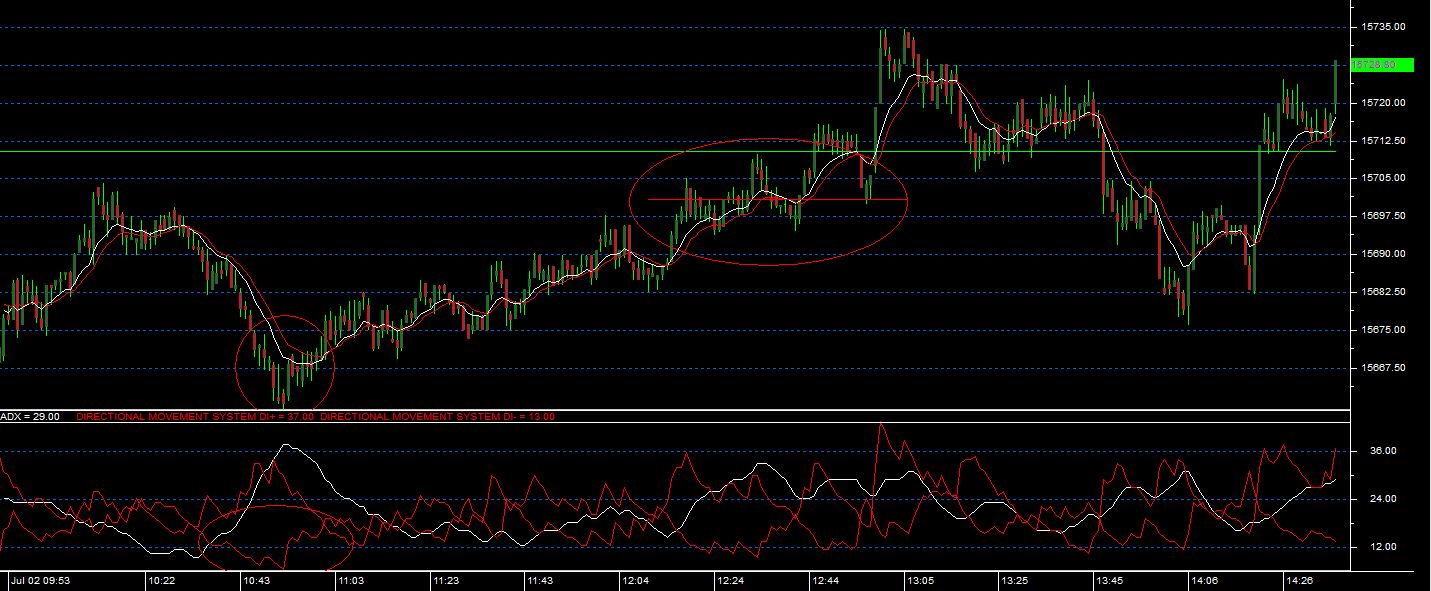 How does it work?
When the positive directional indicator recharge below 10, then wait for one big green candle to appear. As a result of this, we see that the uptrend has begun.
Buy Nifty futures, after the green candle has appeared.
Keep a stop loss of 7 points below the lowest candle in a downtrend before the green candle.
Keep target off of at least 30 points in nifty futures.
About 95% of the time we see success with this nifty futures trading formula.
So those are the nifty futures trading formula that I wanted to share with you for uber success. 
I hope you have gained a lot of knowledge and will prosper with these two trading formulas.
I am more than glad that you read till the end of this article.
Try these two formulas and report to me how it is working on a daily basis. As a result of it, I get the pride to you to mention it worldwide.
If this article has given you to at least two cents of value, please share it. Please comment what did you feel about this article.
Follow Exotic Investment on Facebook.
Happy Trading And Happy Money Making!