Nifty Trend For Monday Analysis gives you an undue advantage for your trading day next week.
We've already looked at the SGX Nifty Trend, Bank Nifty Trend, and Nifty Trend calculator in blog posts.
BTW, I recently blogged about an extensive Super Learners Basic Guide To Learn About Stock Market Basics Step By Step. If you'ven't got a peek at it.
The nifty trend for Monday is a small gift from my side to prove the profess of technical analysis to predict the future to you.
As a day trader, gains are important and should be continuous in nature. When you can't trade in markets then you have to look for other investments.
Out of your investments, what are the best investments you've made make or breaks how much returns you can expect.
I'm usually a very big fan of Indian Nifty. Because of its liquidity, and a large tradership, my trade is always going through.
Though being a trader is demanding to stay in front of the computer, it's oddly satisfying and refreshing.
In my career of 15+ years as a trader, I've learned that Nifty Trend For Monday is mostly influenced by these factors:
Global Markets
Supports and Resistances
Technical Analysis Levels
Nifty Trend For Monday is the first thing I'll usually I'll look at on weekends. Nifty Trend Next Week is an amalgamation of lots of factors of trade.
So without further ado, let's jump to analyze nifty trend for next week.
What are the Topics Covered in Nifty Trend For Monday?
Nifty Trend Analysis: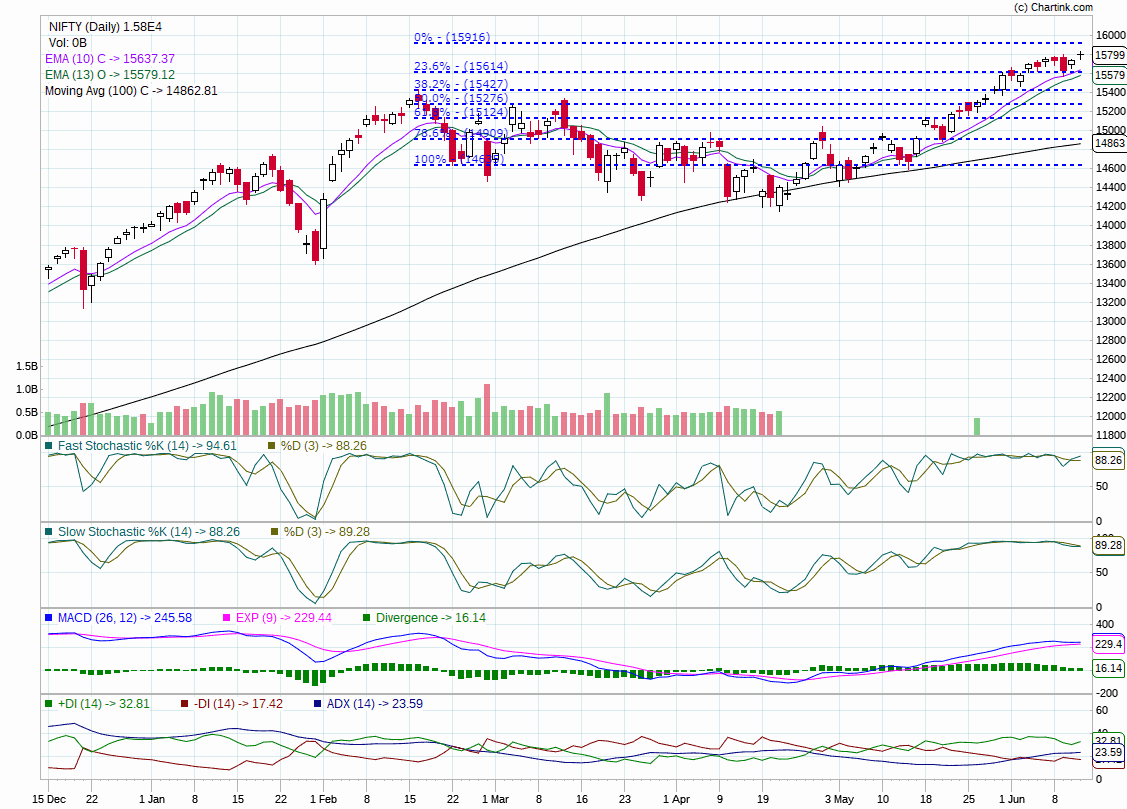 CHART: CHARTINK
Nifty Trend is highly positive given its new highs in Friday 11th June session.
15799 is the all-time closing high for the Nifty.
Given the break of old highs, nifty may either see a big resistance or move hugely bullish.
Usually, all-time highs make a big impact on the trend of Nifty.
Also, not to forget the Momentum in the market is hugely positive.
One day, if we have a crash, the next day we'll have a patch up.
We are headed for the highs of 15916 in the further sessions to come as per Fibonacci Extension.
Global Markets Data:
Dow Jones is up 13.6 points or 0.04% on Friday 11th June 2021.
SGX Nifty has closed 48 points in Green around 15850 levels.
Hangseng closed positively with 133 points higher.
Nikkei closed 0.03% or 9.83 points lower.
Looking at the Global market data we have a positivity mostly for Nifty Trend For Monday.
Technical Analysis Levels: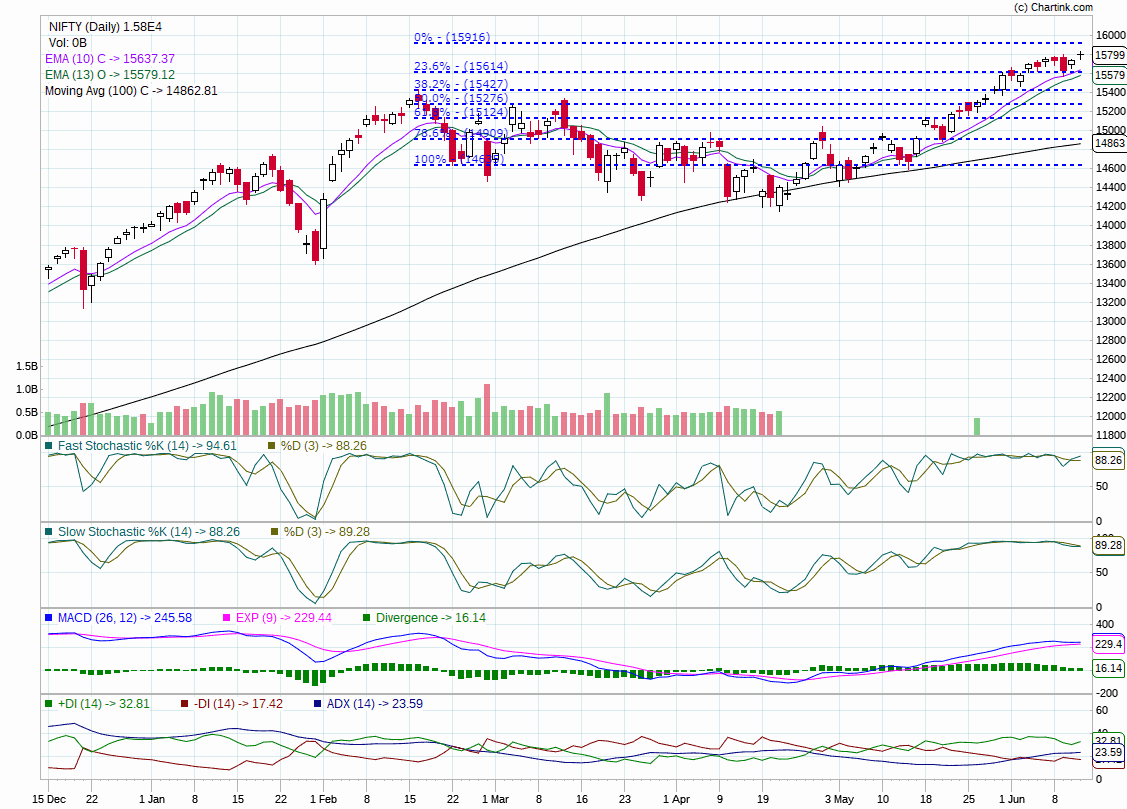 Nifty is taking support at 23.6% of the Fibonacci Extention on the chart. So a leg up will propel to the 15916 levels.
Crossing the Fibonacci retracement drawn from 15431 to 14300 means it will use this 100% level as support.
10 Day EMA is well above the 13 days EMA, which means that trend is is usually positive.
Since a Doji is formed in Nifty, we are in ambiguity if the Nifty can shoot up further.
Fast stochastic is at 94.61 level (overbought zone), meaning I see Nifty is poised to drop down.
Slow stochastic is at 88.26, near to the overbought zone indicating a negative move.
MACD is greatly positive depicting a great positive leg up.
It has huge support at 15700, hence the downward trend is held up causing an upward thrust.
Nifty is making higher highs, which shows a growing positivity.
Since Nifty came out of the rounding bottom pattern, we may see huge up moves.
With the technical analysis data, Nifty Trend For Next Week, is supposed to be a positive move upwards. 
Supports and Resistance for Next Week: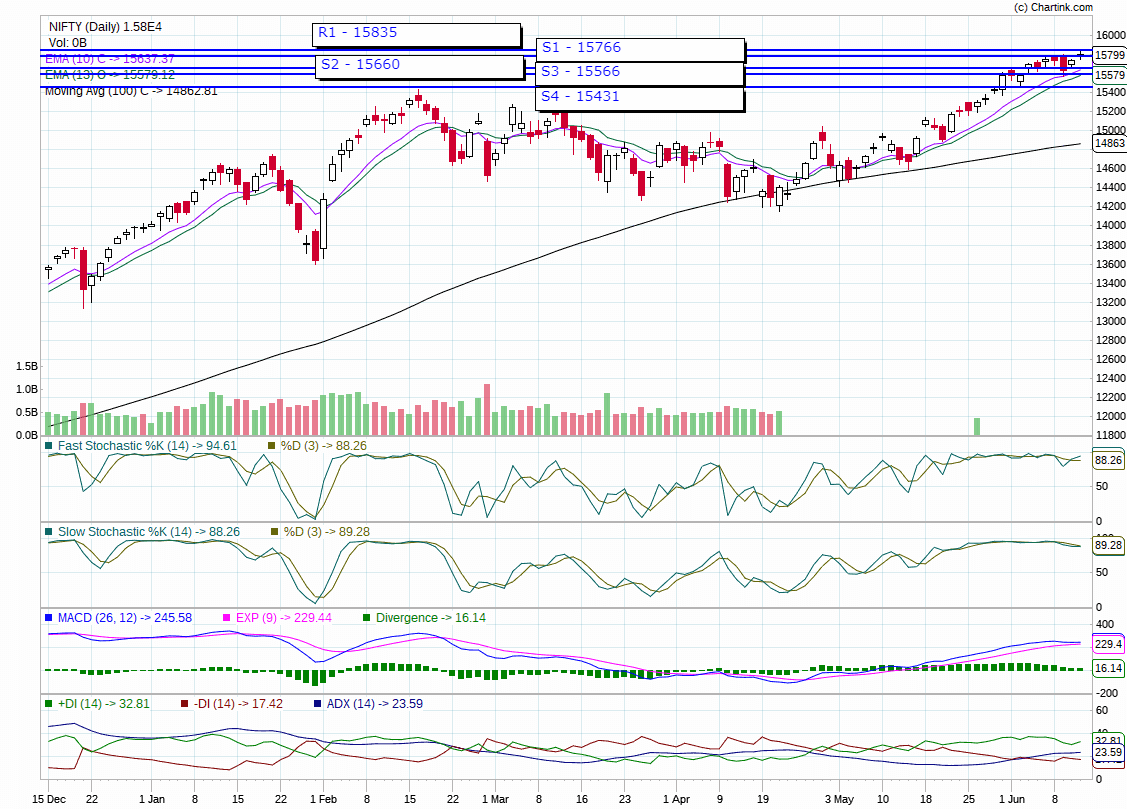 We literally have lots of Support, but hardly any resistance but one. We have flown all the way to the all time high now.
Supports – 15766, 15660, 15566. 15431.
Resistances: 15835.
15835 is resistance only because in yesterday's session (11th June 2021) we saw Nifty scaled to this level.
Else we will hardly have any resistance for Nifty.
With the help of support and resistance, we may say that the Nifty trend for next week is poised to be a positive move.
Nifty Trend For Monday Conclusion:
Nifty Trend Analysis shows we are headed for the 15916 as Fibonacci Extension is suggesting.
Global Markets Data concludes we have a good leg up being positive.
Technical Analysis Levels are also denoting, no signs of weakness in Nifty.
Supports and Resistance for Next Week show there is literally no resistance to the Nifty Trend For Next Week.
Unless we have a black swan event, Nifty Trend for Next Week is Hugely Positive. 
Hope you liked the way I analyzed Nifty Trend For Monday and found that all factors lead to positivity.
If you liked my post, please please do not forget to share it with those who may get benefitted from my analysis.
Having said that, Happy Trading and Happy Money Making!