Nifty Trend For Next Week paves great analysis in all the directions to make your start of the week a profitable day!
Let nifty trend for next week, guide you to be a stepping stone for success next week.
We've already looked at the SGX Nifty Trend, Bank Nifty Trend, and Nifty Trend calculator in my previous blog posts. As a result you've gained the confidence to trade too.
I recently blogged about an extensive Is Day Trading A Good Idea Actually for Real People for Success? If you've not got a peek at it, please go and check it out.
The nifty trend for next week is a small gift from my side to prove the profess of technical analysis to predict the future to you.
As a full-time trader and a fully focussed day trader, I believe you ought to analyze Indian Nifty well before the next week.
Nifty is a very big head turner and gains lot of traders to trade in it including the FIIs and DIIs. Because of this liquidity is really high and your sell or buy gets executed any time.
Trading in its own paradigm is an oddly satisfying job, as it draws your attention to things a nontrader can't see! As a result of this, a strong technical chart reading is inculcated in you.
I would exactly do that combined with world markets and SGX Nifty to analyze the Indian Nifty Trend For Next Week.
Nifty Trend For Next Week will be influenced by these 4 factors:
Global Markets
Supports and Resistances
Technical Analysis Levels
So without any further ado, let's check the nifty trend for next week.
What are the Topics Covered in Nifty Trend For Next Week?
Nifty Trend Analysis: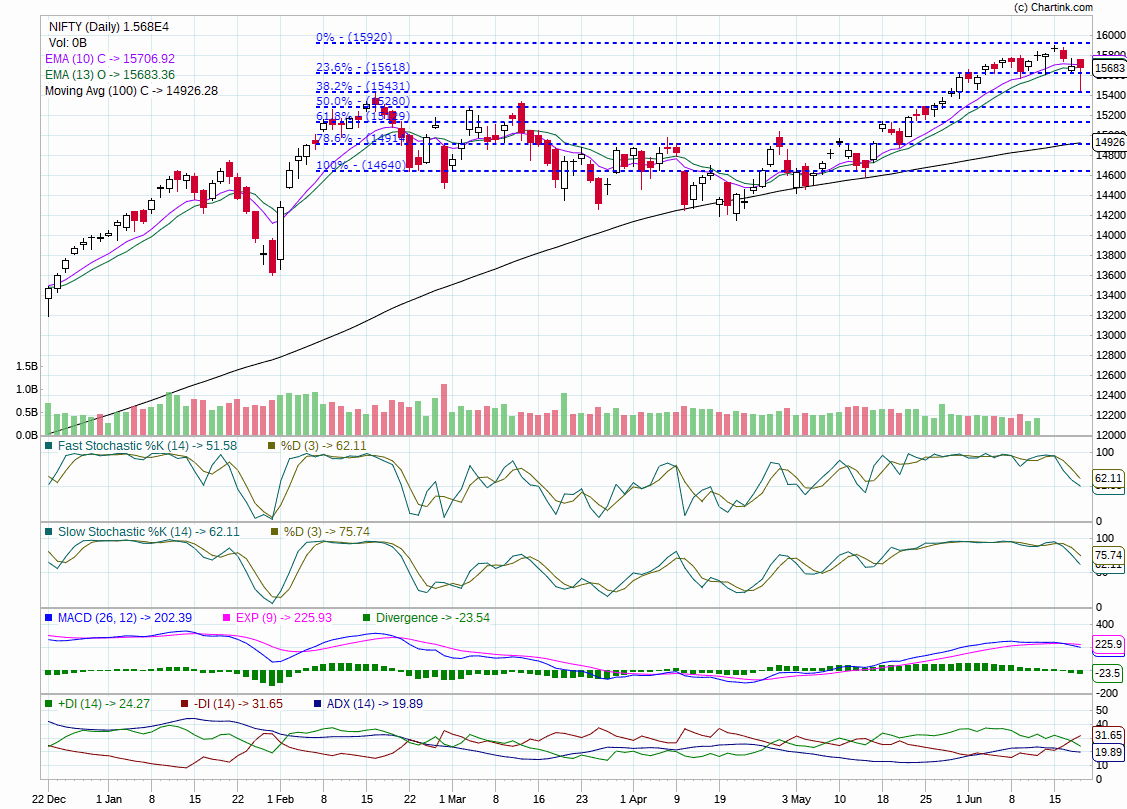 Nifty Trend is negative given its new lows touching on Friday 18th June session.
15901 is the all-time closing high for the Nifty attained this week and retraced from that level.
Given the holding of supports, nifty may see more movement on the lower side to test the supports before it could move higher. Because of it, 15431 may be tested again.
The new lows and support at 15431 levels determine, we have a slight trend of Nifty on the downside.
Now that the Momentum in the market is turned negative.
Monday, if we have a crash, then again the levels of 15431 the previous all time highs may be tested again.
We were headed to 15920 levels as per Fibonacci Extension. As a result of this, 15916 formed to be a resistance. Now Nifty could not bar the pressure of resistance and felt the dropdown.
Notice Fast stochastic and slow stochastic has dropped hugely and so is Indian Nifty as a whole.
Global Markets Data:
Dow Jones is down 533.37 points or 1.58% on Friday 18th June 2021.
S&P closed 55.41 points down.
SGX Nifty has closed 95.15 points in Red around 15595 levels.
Hangseng closed positively with 224 points higher.
Nikkei closed 0.19% or 54.25 points lower.
All of a sudden from last week, the global markets have turned negative.
As a result of the global market data, the nifty trend for Monday will open negative.
Technical Analysis Levels: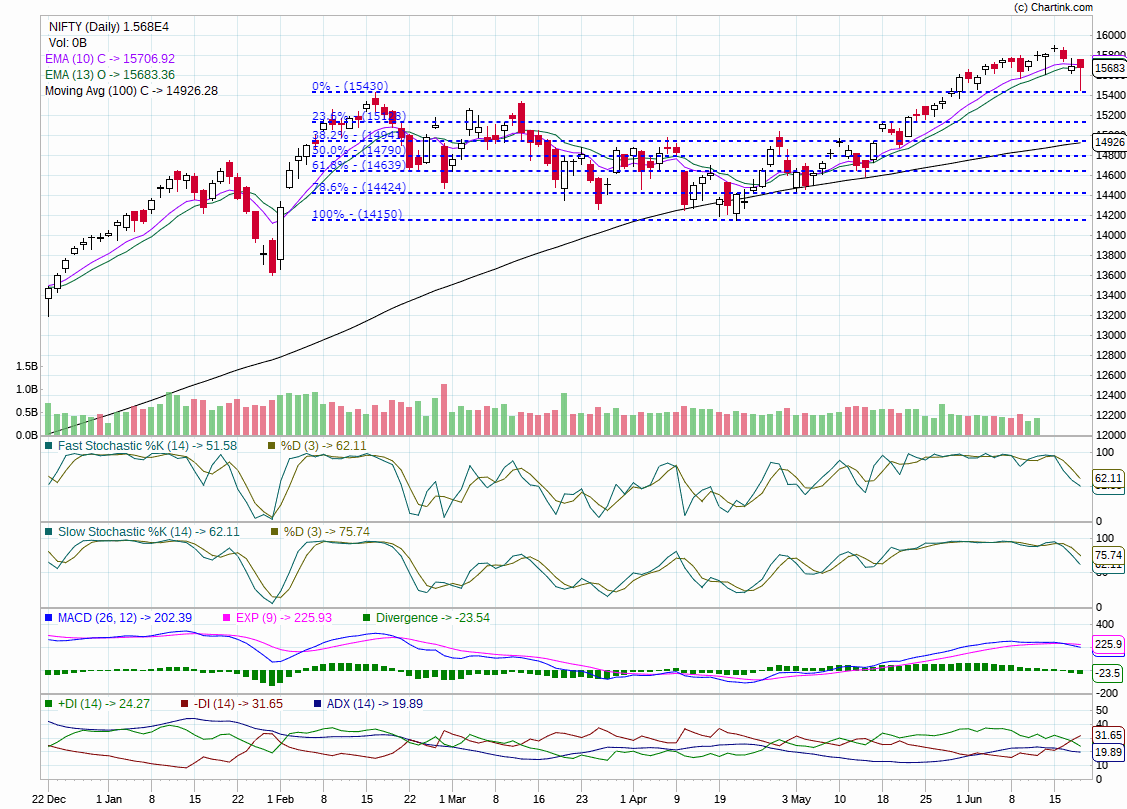 Nifty is taking support at 0% of the Fibonacci Extention on the chart. As a result of this Nifty may see again testing the same old levels of support before it could propel higher
Crossing the Fibonacci retracement at 15431 means Indian Nifty will have to look at 15300 levels for support.
10 Day EMA is slightly above the 13 days EMA, which means that trend is showing positive.
Since a hanging man is formed in Nifty, we are seeing that Nifty may come down further.
Fast stochastic is at 51.58 level, meaning I see Nifty is ready for a drop-down or an uptick.
Slow stochastic is at the 62.11 level, meaning I see Nifty is ready for a drop-down or an uptick.
MACD is currently negative depicting a negative leg down in Nifty.
It has huge support at 15618 and 15431 levels, hence the downward trend is held up causing an upward thrust.
Nifty is making lower highs, which shows a dipping positivity. As a result, it shows the Nifty trend is weak.
Since Nifty sees the EMA Crossover on the downside, we may see some more red on the charts.
With the technical analysis data, nifty trend for next week is supposed to be a negative move downwards. 
Supports and Resistance for Next Week: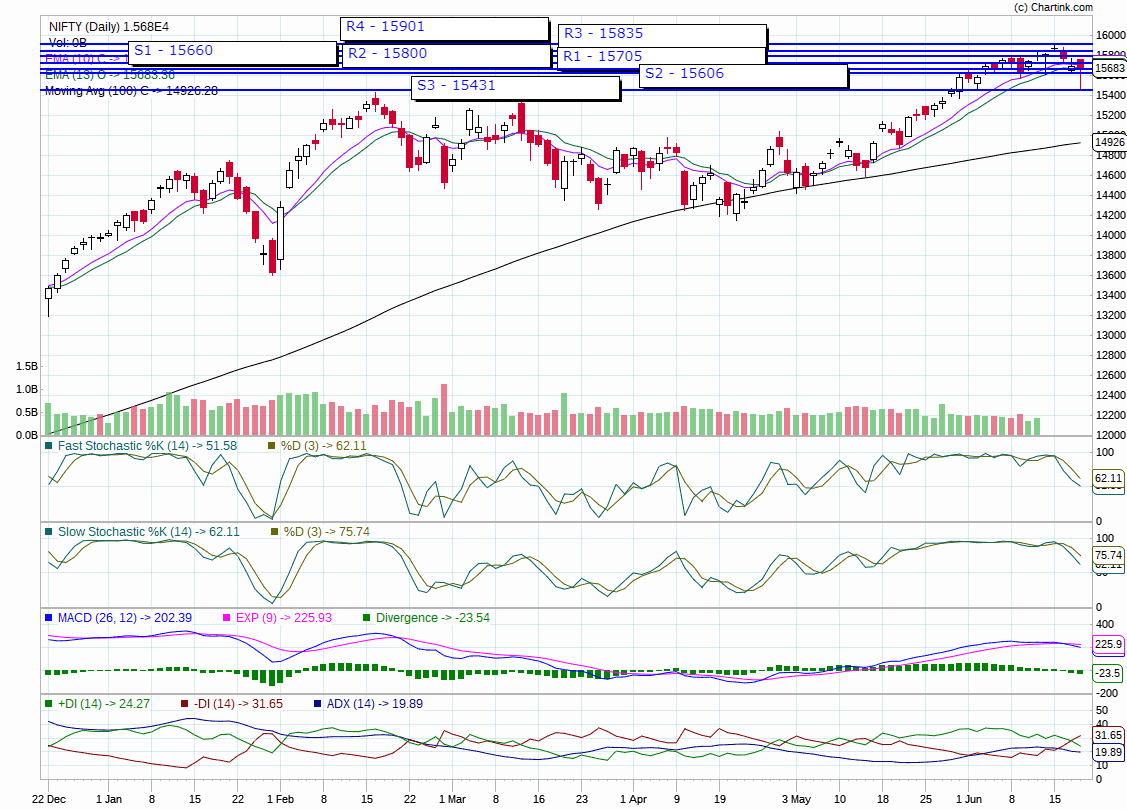 We literally have lots of resistance and supports at this juncture of Nifty as it retraced from the highs.
Supports – 15660, 15606, 15566. 15431.
Resistances: 15705, 15800, 15835, 15901.
Currently Nifty has closed with a drawdown of almost 250 points from the all-time high. Because of this, Nifty's is looking to tap into its supports to support further leg ups.
Since 15618 is good support as per the Fibonacci Extention, we may see a cap of further downside.
With the help of support and resistance, we may say that the Nifty trend on Monday is poised to be a Negative move. As a result, you may find the market collapsing or touching or testing supports again.
Nifty Trend For Next Week Conclusion:
Nifty Trend Analysis shows we are headed for the 15431 as supports are showcasing.
Global Markets Data concludes we have a good leg down being negative.
Technical Analysis Levels are also denoting, signs of weakness in Nifty.
Supports and Resistance for Next Week show there is a lot of new crackdowns in Nifty Trend For Next Week. Because of this, we are headed a bit negative
Nifty Trend for Next Week is

Slightly Negative

. 
Hope you did like my analysis about the Nifty Trend on Monday analysis. Because I've spent enough time to get you on the right track to success.
As a result of this, if you make money on Monday, I would be the happiest.
Don't forget to lemme know how you felt in the comments.
I sincerely ask you to share the post and help others in need of analysis to grab the positivity of the trend.
Follow me on Facebook of Exotic Investment.
Happy Trading and Happy Money Making!